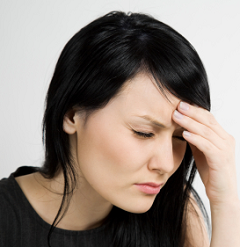 This codependency article is the last chapter on managing anxiety. We will manage anxiety by learning cognitive behavioral strategies. To review, the other strategies include physical exercise to burn off adrenaline and relaxation breathing. We are learning to manage anxiety, because when we let go of co-dependent behaviors and beliefs, we often feel some anxiety.
Cognitive behavior therapy or "CBT" was first developed by Dr. Albert Ellis. He called his theory Rational Emotive Therapy or "RET". Dr. Ellis believed that the way we feel is determined by what we think about what happens. For example, some people suffer from road rage. This is because of how they perceive other drivers. Driver "A" may change lanes too quickly without signaling, causing Driver "B" to have to brake very firmly to avoid an accident.  If Driver "B" thinks: "What an inconsiderate, obnoxious jerk!" he or she is going to be livid.  Driver "A" may do the same thing later to Driver "C". Suppose "Driver "C" perceives the incident differently than Driver "B".  Driver "C" might think "Oh, maybe he/she didn't see me. I could have been in their blind spot." If Driver "C" perceives the incident like that, he or she may hardly notice it.
RET or CBT teaches us what to do when we feel upset. We can take a deep breath in and all the way out and pause a moment. Then we can back up and think, okay, what just happened? Then we can think, what do I believe about what happened? Then we can see how what we believe about what happened affects how we feel. We can then try to think something different about what happened, and see if we feel better. If that is too complicated, there is an easier way to remember how to do this exercise. It is the A, B, C, D, and E method.
"A" is an Activating event or something happens.
"B" is a Belief or what we think about what happened.
"C" is an emotional Consequence or how we feel as a result of what we think about what happened.
"D" is to Dispute what we think about what happened or try to think differently about it.
"E" is the new Emotional state, or how we feel now that we perceive what happened differently.
Dr. Ellis went one step further and identified twelve irrational beliefs which contribute to feeling miserable. You may notice that some of these beliefs are very common in co-dependents. Read over them and see which ones you identify with the most. Then in your own words find a way to dispute the ones you identify with. If you identify with number 2 (as most co-dependents do) you might dispute it by thinking that you are human, it is okay to make mistakes, and you do not have to be perfect. The twelve irrational beliefs follow.
Twelve Irrational Beliefs
1. Everyone should love and approve of me.  (If they don't, I feel awful and unlovable).
She approves of me, so I am okay. He criticized me, so I am a failure. It is not possible to please everyone in your life. What one person loves, another hates. When we try too hard to please others, we lose our identity and self-worth.
2. I should always be able, successful, and "on top of things". (If I'm not, I'm an inadequate, hopeless failure).
I should be able to handle it all.  I have to be the best parent, secretary, etc…No one can be perfect. We all have our strengths and weaknesses. It may motivate us to set extremely high standards, but takes away the joy of living, and alienates others if we expect them to be perfect.
3. Certain people are evil and bad and should be punished.
That idiot cut in front of me. That clerk was extremely rude. No matter how wrong the act, there are always reasons. If we were able to put ourselves in the other person's situation and mental condition, we would see it from his or her point of view and understand.
4. When things don't go the way I wanted and planned, it is terrible, and I'm going to get very upset!  I can't stand it.
I got a flat tire, I can't handle it, I'll get filthy, and it's terrible. My computer crashed! Children are frequently told, "You can't have everything you want". The same is true for adults. We can say, "I don't like this. I'll do something to change it", or there may be nothing we can do but accept it.
5. External events such as other people, a messed up society, or bad luck cause all of my unhappiness. Since I have no control over these factors, I can't do anything about my depression or misery.
My rent went up. It's not fair. Everything happens to me. We have no control over people, places or things, but we can control our responses. We can challenge irrational beliefs. We are responsible for how we feel.
6. When a situation is scary or going badly, I should and can't keep from worrying about itall the time.
What if my daughter grows up and has problem A, B or C? There is a difference between ruminating about what might happen, and thinking about how to prevent, minimize or cope with real problems.
7. It is easier for me to overlook or avoid thinking about tense situations, than to face problems and take responsibility for correcting the situation.
A leaky faucet won't matter. I would like to learn more about computers. Maybe later. Procrastinating gives immediate relief, but later on results in more serious problems.
8. I need someone—often—a specific person to be with and lean on.
I can't live without him or her. I'll never be happy with anyone else. We all need other people, but no one needs to be dependent on one specific person.
9. Things have been this way so long, I can't do anything about these    problems now.
My daughter's attitude makes me so mad that I just have to blow up at her. I can learn from the past, and my new ways of coping with difficult people and situations.
10. When my close friends and relatives have serious problems, it is only right and natural that I get upset too.
My best friend has suffered a loss, so I have to be sad with her. It is nice to be concerned, sympathetic, and helpful. To be overly distraught is not helpful and may even be harmful. If you become too upset, someone may need to take care of you.
11. I don't like the way I'm feeling, but I can't help it. I just have to accept it and go with my feelings.
I'm angry and hurt that I wasn't invited to the party. Yes, sometimes our feelings are hurt and we do feel sad. We can challenge any thoughts that may make things worse.
12. I know there is an answer to every problem. I should find it.  If not, it will be awful.
Wrong. There is no perfect solution to every problem. In fact, there may be several, or there may be none.
Common Threads
Extremist thinking, all or nothing
Catastrophizing
Ignoring the positive
Dwelling on the negative
Over-generalizing
I must or I should
© Copyright 2010 by Joyce Henley, MSW, LCSW, CEAP, SAP. All Rights Reserved. Permission to publish granted to GoodTherapy.org.
The preceding article was solely written by the author named above. Any views and opinions expressed are not necessarily shared by GoodTherapy.org. Questions or concerns about the preceding article can be directed to the author or posted as a comment below.