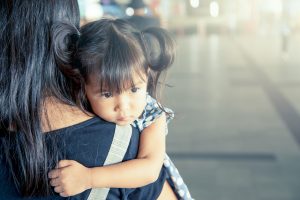 Parents may fail to notice symptoms of posttraumatic stress (PTSD) in their children for years, according to a study published in the Journal of Clinical Psychiatry.
While many media reports disproportionately highlight PTSD arising from military combat, symptoms can occur in anyone who experiences trauma. Abuse, exposure to natural disasters, life-threatening illnesses, car accidents, violent crimes, and similar traumas can trigger PTSD. According to the National Comorbidity Survey Replication Adolescent Supplement, 5% of teens meet diagnostic criteria for PTSD. The National Center for PTSD reports that no nationally representative studies have explored PTSD rates in younger children.
Does PTSD Go Unnoticed in Children?
The study included more than 100 children ages 2-10 who were involved in road accidents such as car crashes or being hit by a car. Investigators used PTSD diagnostic criteria to assess participants two to four weeks following the accident, then again at six months and three years. They interviewed all participants who were age 7 or older, as well as all primary caregivers.
They found stress shortly after a trauma does not necessarily correlate with PTSD in later years. Trauma severity correlated with symptoms of PTSD for as many as six months following the trauma, but not three years later. Three years following a trauma, parents of children with PTSD often failed to recognize their children's symptoms. Even some parents with PTSD did not notice the same condition in their children.
Detecting PTSD Symptoms in Children
The study highlights the need for both parents and clinicians to weigh the effects of trauma on children. The symptoms of PTSD are often different in children, and very young children may not be able to verbalize their symptoms.
Older children typically experience symptoms similar to those of adults, such as intrusive flashbacks, avoidance of people and places associated with the trauma, difficulty remembering parts of the traumatic event, and high levels of anxiety. Symptoms of PTSD in younger children may include:
A skewed sense of time regarding the trauma. For example, a child might believe the traumatic event occurred much earlier or later than it did or remember the events of the trauma happening in a different order.
Omen formation: the belief that certain warning signs predicted the trauma. This can cause children to believe if they are sufficiently careful or alert, they can prevent a subsequent trauma.
Reenacting the trauma in art, play, or discussions. This tendency to reenact the trauma can be compulsive and does not typically help children with their anxiety. Some children may also recreate behavioral portions of the trauma.
References:
Parents don't notice young children's PTSD — but may need support themselves. (2016, November 8). Retrieved from https://www.eurekalert.org/pub_releases/2016-11/uoea-pdn110316.php
PTSD in children and adolescents. (2016, February 23). Retrieved from http://www.ptsd.va.gov/professional/treatment/children/ptsd_in_children_and_adolescents_overview_for_professionals.asp
© Copyright 2016 GoodTherapy.org. All rights reserved.
The preceding article was solely written by the author named above. Any views and opinions expressed are not necessarily shared by GoodTherapy.org. Questions or concerns about the preceding article can be directed to the author or posted as a comment below.