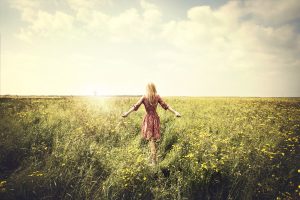 Optimistic women may live longer than women who are not optimistic, according to a study published in the American Journal of Epidemiology. The study assessed optimism levels in more than 70,000 older women in 2004 and 2008. The average participant was 70 years old when the study began.
Optimistic women had lower rates of potentially lethal conditions. Women ranked in the 75th optimism percentile or higher had a decreased risk of death due to cancer, stroke, heart disease, and respiratory infections. The researchers found optimism was an especially effective preventative for heart disease. Optimistic women were 40% less likely to face cardiovascular disease, even when researchers controlled for other cardiovascular risk factors.
Several other studies have also found a link between optimism and better physical and mental health. Previous research also suggests optimism is 75% due to social circumstances and under a person's control, while the other 25% is heritable.
The U.S. Senate passed the 21st Century Cures Act on Wednesday, and experts are calling it the most significant law for mental health since 2008. The bill increases funding for research into diseases, shortens timelines for new drug approvals, and makes mental health care more of a priority by strengthening parity and offering earlier intervention in cases of psychosis. It also recognizes the short supply of psychologists and psychiatrists in the country, and includes grants to increase the number of people in these positions to offer quality mental health care.
mental health issues
many
veterans
have experienced after returning from conflict zones in Afghanistan and Iraq.
According to records of 21,000 seniors, dementia rates have been in decline since 2000. Researchers suspect better treatments for cardiovascular disease and diabetes might partially account for the drop. The rising amount of adults who pursue higher education might also be a factor in the declining rate of dementia. However, a drop in the rate of dementia does not necessarily mean the total number of adults with Alzheimer's is also decreasing, according to the Alzheimer's Association.
A large representative study of adults in the United Kingdom suggests involvement in community groups could prevent age-related cognitive decline. Volunteer organizations, neighborhood watch teams, and civic organizations all appeared to improve cognitive skills in aging adults. These activities can give older adults what researchers call social capital, which can help reduce loneliness, isolation, and stress.
Researchers from Northwestern University have found the way people breathe affects electrical activity in the brain, altering emotion and memory. According to the study, breathing through the nose increases fearful responses and heightens memory. This provides clues to how the immediate physical reaction to trauma and other upsetting events might change the way the brain processes and stores memories associated with such events.
According to a report from the U.S. Surgeon General, electronic cigarette use among high schoolers increased 900% between 2011 and 2015. The rate of use among middle schoolers tripled in the same time frame. The report notes that adolescents' developing brains may be more vulnerable to the effects of nicotine—potentially leading to future addiction—and encourages a national push to combat use of e-cigarettes among young people.
Malta has become the first country in Europe to outlaw conversion therapy, a controversial and largely discredited practice that aims to change someone's gender identity or sexual orientation. If someone in Malta is caught practicing or promoting conversion therapy, according to the new law, they are likely to face high fines and possible jail time.
© Copyright 2016 GoodTherapy.org. All rights reserved.
The preceding article was solely written by the author named above. Any views and opinions expressed are not necessarily shared by GoodTherapy.org. Questions or concerns about the preceding article can be directed to the author or posted as a comment below.