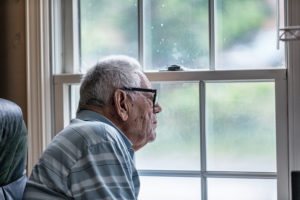 Some nursing homes may be inappropriately using antipsychotics to control residents with dementia, according to a report by Human Rights Watch.
According to the report, which includes interviews with nursing home residents, caregivers, and staff, nursing homes routinely use drugs for uses not approved by the U.S. Food and Drug Administration (FDA). These drugs are often prescribed without the consent of residents or their caregivers.
The Use and Abuse of Antipsychotics
Researchers made 109 visits to nursing home facilities in New York, Kansas, California, Florida, Illinois, and Texas. They conducted 323 interviews with nursing home residents and their families, as well as staff, ombudsmen, advocacy organizations, and disability experts.
Researchers found that nursing homes give 179,000 people antipsychotics each week. The drugs are intended to treat hallucinations and other symptoms of psychosis. Yet the report says nursing homes often use these drugs to chemically sedate residents.
It is common practice in some of these nursing homes for staff to administer the drugs without the residents' consent. According to the report, attempts to seek consent from a caregiver, who could weigh the risks and benefits of medication, are rare.
Like all drugs, antipsychotics can cause serious side effects such as diabetes, blood clots, etc. In medically vulnerable elders, these side effects may be worse. Antipsychotic drugs almost double the risk of death in older people with dementia.
One staff member said a common reason for medicating residents was to get them to stop crying for help.
Dementia and Mental Health
Dementia is a collection of diagnoses and syndromes, including Alzheimer's, frontotemporal dementia, primary progressive aphasia, and other conditions. Many people think of dementia involves only memory loss. Yet most forms of dementia steadily erode cognitive and mental health. People with dementia may experience anxiety, phobias, and depression. Depending on the type of dementia a person has, they may also lose their ability to speak. This makes it difficult for them to communicate to loved ones about the quality of care they receive.
The report's interviews with nursing home residents suggests the use of these drugs can harm people's mental health and sense of agency. A Texas man identified as Walter L. says, "I can't even talk. I have a thick tongue when they do that. I ask them not to…They get me so I can't think. I don't want anything to make me change the person I am."
Residents who do not comply may be threatened with removal from a facility.  Yet people with end-stage dementia often require constant care. For these individuals, removal from a nursing home can have devastating consequences.
The Human Rights Watch report calls for an end to this coercion, saying these practices count as elder abuse under domestic law.
References:
Suspicion, delusions and Alzheimer's. (n.d.). Retrieved from https://www.alz.org/care/alzheimers-dementia-suspicion-delusions.asp
"They want docile": How nursing homes in the United States overmedicate people with dementia. (2018, February 5). Human Rights Watch. Retrieved from https://www.hrw.org/report/2018/02/05/they-want-docile/how-nursing-homes-united-states-overmedicate-people-dementia
© Copyright 2018 GoodTherapy.org. All rights reserved.
The preceding article was solely written by the author named above. Any views and opinions expressed are not necessarily shared by GoodTherapy.org. Questions or concerns about the preceding article can be directed to the author or posted as a comment below.