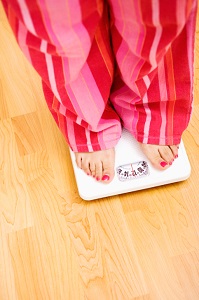 "Fear is the mind killer." —Frank Herbert, Dune
"Fear is in your head, only in your head, so forget your head and you'll be free." —David Bowie, "Fill Your Heart"
In my work with people who struggle with disordered eating, I often encounter fear. Not my fear, but theirs. Fear of gaining weight, fear of certain types of foods, fear of eating too much, fear of what other people think, fear of failure, fear of intimacy, fear of rejection, and fear of being alone and unloved, to name a few.
My clients usually don't realize that the problem isn't weight, food, fat, how others see them, whether they're successful, or being loveable. They don't recognize that the real problem is fear, and the degree to which fear rules their lives. So they keep trying to fix the wrong problem. They work very hard to control their weight, their food intake, their work habits, and their behavior around others. Sometimes they withdraw from others and binge eat alone, a conflicted relief from the stress of being "on" and making sure they are looking, acting, and speaking the right way.
Fear is a natural human emotion, but at its extreme, fear becomes a driving force, motivating a person to go to great lengths to avoid or stave off what frightens him or her. A disordered eater might avoid eating foods that seem "fattening," or that they fear they will eat too much of. Often, he or she will not eat enough because they are terrified of eating too much, and fear they will not stop eating if they cross an invisible line with food. In my work, I find this to be true of people who are, from a medical standpoint, dangerously underweight. Avoidance of what is feared gives a sense of control, and that desire for control becomes valued above all else.
From the perspective of someone whose struggles with body image, eating, and exercise are severe, the stakes are extremely high. If they eat over their self-determined limit, or believe their stomach is too big, or they get less that an "A" on a test, or say something that annoys someone, they see this as confirmation of their worthlessness.
In my office, I talk with clients about naming the problem not as weight or fat or food or lack of willpower, but as fear. And about the fear being rooted in beliefs that aren't entirely accurate—beliefs that their safety and security in the world is contingent upon others' approval, and that others' approval must be earned by looking good and achieving quite a lot. They fear that they simply aren't good enough, so they must work hard to look and be as perfect as possible.
The remedy is neither to avoid scary things nor to stop being afraid, but rather to develop courage. Courage involves identifying fear, accepting it, and then doing what is best for one's self. Courage means learning to act not in accordance with what one's impulse is when afraid (e.g., eat less, increase exercise, avoid social events), but instead in ways that support well-being. I encourage clients, when confronted with a situation that frightens them, to notice what they want to do, and then to ask themselves, "What is good for me?" It's often the opposite of what they want to do. The next step is developing the willingness to do that thing, no matter how hard and scary.
Learning to live with fear is a process. It's like building up a set of muscles that hasn't been used much. When fear is named and accepted, it loses some of its power. The more someone bases their actions on what is good for them instead of what feels better, the less intimidated they are by fear. Eventually, when he or she is afraid, he or she can say "it's just fear again" and do the right thing, whether it be eating a feared food or refraining from over-exercising or attending a social event or reaching out to someone for support or dealing with conflict in a relationship: the thing that meets their needs, supports their well-being, and leads to healing.
© Copyright 2013 GoodTherapy.org. All rights reserved.
The preceding article was solely written by the author named above. Any views and opinions expressed are not necessarily shared by GoodTherapy.org. Questions or concerns about the preceding article can be directed to the author or posted as a comment below.