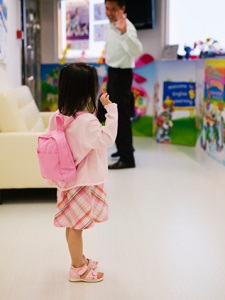 Your children are not your children.
They are the sons and daughters of Life's longing for itself.
They come through you but not from you,
And though they are with you yet they belong not to you…
You are the bows from which your children
as living arrows are sent forth…
Let your bending in the archer's hand be for gladness;
For even as He loves the arrow that flies,
so He loves also the bow that is stable.
On Children, by Kahlil Gibran
I have always loved that quote from The Prophet, but I never really understood the importance of the message until I became a mother. It made sense to me as a young woman to say that I didn't belong to my parents. But from a mother's perspective, what does it mean to say "your children are not your children?"
What I have come to understand over the nearly 18 years that I have been a mother is that while we share our love, nurturing, discipline, and even our knowledge with our children (to the extent they pay attention), they are their own people. They are complete human beings unto themselves, with their own temperament, personality, and path to follow. More importantly, a lot of who they are and what they do is not really about us at all.
But eventually, we begin to see that the child does not always behave the way we would like or even understand. With a colicky baby, this can start just a short time after he or she is born. With an "easy" baby, the experience of separation may occur later. At some point, we realize that our own needs and wants can conflict with those of our child, and the need for boundaries begins.
Without establishing clear emotional boundaries between you and your child, you may experience a constant struggle to make your child into the person you want him or her to be. You may have the feeling that if only you could parent perfectly, your child would be perfect as well. This struggle is exhausting and frustrating for you, and ultimately damaging to your child's sense of self.
What does it mean to have healthy emotional boundaries? It is based on the understanding that as a parent, you can only control your own behavior and manage your own emotions. You are responsible for being a good-enough parent, which means having reasonable expectations and limits, while being responsive to your child's feelings. You cannot directly control the feelings or behavior of your child.
For example, you cannot make your baby be patient until you are available to feed him. No matter how quickly you try to feed him, he may still become upset while he is waiting for you. You can merely hear and reflect his frustration, choose how much time you can reasonably expect him to wait, try to soothe him as much as you can, and cope with your own feelings of guilt or anxiety about listening to his complaints. A lack of emotional boundaries in this situation causes us to experience anger toward the baby for "making" us anxious by being "unreasonably" impatient, when he is merely expressing his own frustration and hunger.
Temper tantrums are another situation where a lack of emotional boundaries can make a difficult situation even worse. Good emotional boundaries allow you to accept and have compassion for your child's distress without feeling unduly guilty, angry, or compelled to fix things. A good-enough parent makes sure the child is safe, but does not need to keep the child from expressing anger or frustration. If people around you are disturbed, you may choose to remove your child from the situation. That is choosing how to respond to your child's behavior, understanding that how she behaves is beyond your control.
As your child matures, emotional boundaries allow your child to be more or less concerned than you are with becoming toilet-trained, making friends, wearing clean clothes, getting good grades, or being in the school play. Sometimes, who they are becoming can make you so proud and in awe of their individuality. Other times, it can make you cringe, as your son refuses to wear shorts when it's 103 degrees outside, or your daughter chooses the rudest girl in the class as her best friend. Indeed, sometimes it's hard to appreciate our child for their differences from us.
We don't have to like all their choices. But healthy parenting means you love and accept them for who they are, set reasonable expectations and consequences for unacceptable behavior, and in other ways provide a "stable bow" from which your child (the arrow) flies. Accepting your child as a whole, unique person with his or her own path to follow is part of the bittersweet job of parenthood.

The preceding article was solely written by the author named above. Any views and opinions expressed are not necessarily shared by GoodTherapy.org. Questions or concerns about the preceding article can be directed to the author or posted as a comment below.