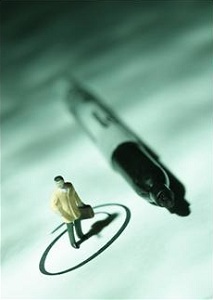 "Your time is limited, so don't waste it living someone else's life. Don't be trapped by dogma—which is living with the results of other people's thinking. Don't let the noise of others' opinions drown out your own inner voice. And most important, have the courage to follow your heart and intuition. They somehow already know what you truly want to become. Everything else is secondary." —Steve Jobs (commencement address, Stanford University, June 12, 2005)
If you are at a crossroads in your life and unsatisfied with your job, it may be that you want a new job—or it may be that you need a new career. It could be that you need both. Before you jump into that next job, make sure you know what you are seeking and why. In the long run, it will save you time and money and will likely lead to a happier and more fulfilling work life.
Most of us would jump at the chance to take a short, online career test that would give us immediate results indicating our ideal career. If it included a list of job openings related to that career, even better! Unfortunately, a career test typically only measures self-reported interests, skills, and personality, and attempts to link those with a list of possible career options. It can be a good way to research careers, but for people who are stressed about finding their next job, it can also lead to a decision based on only what they feel like they can do versus a career that will be an expression of who they really are.
At first glance, the idea of choosing a career and finding a job may seem similar. In my work as a career counselor, I often find that they are vastly different. What is the difference between a job and a career and why does the distinction matter?
A job can be seen as what we do to earn money. For most of us, it is something we have to do in order to financially support ourselves. By this definition, a job is something you have to do and something you probably would not do unless you had to. A man in Missouri recently won half of a record Powerball jackpot, and the first thing he did was quit his job as a mechanic because he no longer had to work for money. If being a mechanic is truly his career and not just his job, then he will likely find other ways to experience being a mechanic—whether it be donating his tinkering talents to a nonprofit organization or helping friends or family members fix their old cars.
On the other hand, a career is about much more than income. It is about what we do to express our purpose and our passion. A career is something that we cannot help but do and, likely, something we have done our entire lives. A classic example of this is a 7-year-old who is fascinated with taking things apart and putting them back together and who decides to become an engineer in the future. At some level, this person has always been an engineer, and now he or she will find a way to express that innate passion through an engineering career.
In the above example, the "career" is engineering, but the type of "job" this individual chooses holds many possibilities. He or she may choose a job as a civil engineer and build bridges; an environmental engineer and design efficient solar panels; or a mechanical engineer and develop racecars for Formula One. But at the heart of it, this person is and always has been an engineer. His or her interests, abilities, values, and personality will help determine how that "engineering-ness" translates to the job market.
If you are in a career and a job that does not seem like a good fit for you, it may be time to ask yourself if you really are in the best career for you. Do some introspection and a review of your own history. What is it that you find yourself doing no matter what you are doing? Friends and family who can be objective can provide helpful feedback about the "thread of you" that always shows through. A competent career counselor can also provide helpful insight and facilitate your ability to see answers. However you decide to move forward, it is my hope that you will discover a career that is congruent with whom you really are and that gives you opportunities to express your passion and interests.

The preceding article was solely written by the author named above. Any views and opinions expressed are not necessarily shared by GoodTherapy.org. Questions or concerns about the preceding article can be directed to the author or posted as a comment below.