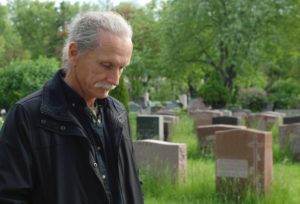 Negative fateful life events (FLEs) are hardships in which a person has little control over the situation. They can range from financial issues to a death in the family.
Some people find it hard to adjust to these changes. Previous research has shown negative FLEs can cause men's bodies to age quicker.
Negative life events can also speed up brain aging, according to research published in the journal Neurobiology in Aging. The study used magnetic resonance imaging (MRI) to analyze changes in the brain after negative life events. This test measures blood flow in the brain, allowing scientists to "see" the organ without opening the skull.
How Negative Life Events Can Change the Brain
Researchers examined 359 men ages 57-66. The men were recruited from the Vietnam Era Twin Study of Aging (VETSA).
Researchers asked recruits to record any FLEs from the last two years. Five years prior, the VETSA study had asked for similar data. The research team assessed the negative life events from both periods.
In the most recent study, every recruit underwent an MRI scan. The team also gathered data on other variables known to affect brain aging. These included (but were not limited to):
Socioeconomic status
Cognitive ability
Even after controlling for these variables, researchers found a strong link between negative FLEs and brain aging. Interpersonal FLEs, such as divorce, seemed to have an especially strong influence.
Men who had more negative FLEs in middle age were more likely to have "older" brains. Each negative life event was linked to an extra 0.37 years. For instance, a man with three negative FLEs would have a brain appearing one year older than its actual age.
Previous research has shown how chronic stress could reduce physical health. The new study claims similar mechanisms may be at play in brain health. The data suggests stress and trauma can erode health in many ways. Further research may assess brain aging in women and ethnic minorities, since most of the study participants were white men.
Can Adversity-Related Brain Changes be Reversed?
The study did not explore ways to reverse or prevent brain aging. Yet previous research suggests therapy may change the brain.
Research published in 2015 points to the power of therapy to change the brains of people with borderline personality.
According to 2016 research, therapy could change the brains of people with social anxiety.
A 2017 study found cognitive behavioral therapy (CBT) may change long-term connectivity patterns in the brain.
If you or a loved one has undergone a stressful life change, therapy can help. You do not have to handle everything on your own.
References:
Hatton, S. N., Franz, C. E., Elman, J. A., Panizzon, M. S., Hagler, D. J., Fennema-Notestine, C., . . . Kremen, W. S. (2018). Negative fateful life events in midlife and advanced predicted brain aging. Neurobiology of Aging, 67, 1-9. Retrieved from https://www.sciencedirect.com/science/article/pii/S0197458018300824
Negative fateful life events and the brains of middle-aged men. (2018, April 5). EurekAlert. Retrieved from https://www.eurekalert.org/pub_releases/2018-04/uoc–nfl040518.php

The preceding article was solely written by the author named above. Any views and opinions expressed are not necessarily shared by GoodTherapy.org. Questions or concerns about the preceding article can be directed to the author or posted as a comment below.