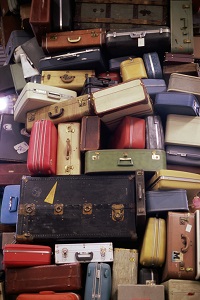 Myth No. 6: "The therapist has it all worked out, is with it, wise, together, and evolved."
Reality: Therapists are people, too. Our culture has elevated therapists to the point where people assume they are somehow gifted with special powers of intelligence, wisdom, or insight, assume they have their "stuff" together, and as a result, many feel intimidated by them. To set the record straight, therapists, like the general population, don't start out having their "stuff" together. In fact, they typically have more "stuff" than the average bear, depending on whether the therapist has done his or her own therapy.
Why don't most therapists start out having their "stuff" together? Most therapists are drawn to the field because they've been tossed around by life, burdened, hurt, and wounded. The ones with the courage to do their own work, to go to therapy, to look into and feel themselves, can become, as Ernest Hemingway alluded to, "stronger at the broken places" and, as Viktor Frankl so eloquently put it, "shine brighter because they've endured burning." A wounded healer is the best healer. Such therapists are intimately familiar with the path of becoming conscious of and caring for the pain they've harbored. This is why the issues a therapist specializes in treating are typically a reflection of his or her own wounds, and makes them particularly adept at helping people who are experiencing something similar to the therapist's own drama.
Why do people expect therapists to have it all together? My hunch is that often children are burdened with feeling inferior, looking up to someone who is bigger, stronger, smarter, and more powerful. In fact, most of us spend a good portion of our lives seeking redemption in things outside of ourselves, and it's not until middle age that we begin to see that everyone is a little messed up. Given this tendency to seek redemption, it's no wonder people expect redemption from their therapist. Narcissistic therapists and Dr. Phil types certainly don't help challenge the stigma.
Anyway, the point is to discourage people from looking for answers or redemption from their therapist.
Editor's note: For more articles examining common myths and fears surrounding psychotherapy, please click here.
© Copyright 2013 GoodTherapy.org. All rights reserved.
The preceding article was solely written by the author named above. Any views and opinions expressed are not necessarily shared by GoodTherapy.org. Questions or concerns about the preceding article can be directed to the author or posted as a comment below.