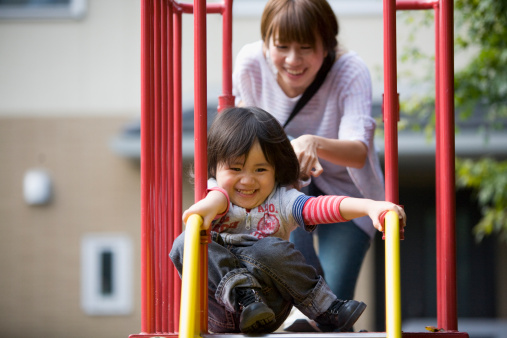 As we find ourselves lurching toward spring, let us challenge the children and families we work with, as well as ourselves, to be more playful.
Getting outside for a few minutes (or more!) provides separation from the mundane, the routine, and the digital. It's a great way to cleanse thoughts and emotions a bit, sometimes leading to unexpected conversation and connection. In the best of cases, spending quality time together leads to storytelling, laughter, and other forms of playfulness. It does not have to but could even include some kind of game or competition.
These are relationship-building catalysts, and they spur development as well—not only the development of our children but also us adults. As we lower our guards and heighten our senses, we all learn and grow.
Like breathing, eating, and sleeping, we all—especially our kids—have a built-in need to be playful. And you can help teach them how … that is, if you haven't forgotten yourself! If a child isn't good at playful interaction, he or she may end up feeling more awkward and may be more likely to withdraw from or be isolated within social situations. Being good at playful interaction depends on continual modeling and practice.
Play is critical for healthy development. There are no substitutes. Everything we do can be permeated with an attitude that is playful. Playfulness is a way to signal that there is safety.
I have especially been encouraged by these truths through the instruction of Dr. Karen Purvis and Dr. David Cross at Texas Christian University, who have written: "Play allows you to safely touch the heart of a vulnerable child. Shared silliness, laughter, and games all demonstrate to a child that you mean no harm. … Use a lighthearted attitude and tone of voice, and interject gentle games and jokes whenever possible" (Purvis, Cross, and Sunshine, The Connected Child, p. 142).
Playfulness can unlock and promote language-skill development, social skills, and even attachment security.
Time dedicated to freewheeling, spontaneous play is slowly—no, quickly—eroding, and everything from sadness, worry, fear, boredom, or worse flood into the vacuum left behind. Whether with young children or with teens, we see this in action every day, don't we? If we're being honest, don't we see it in ourselves?
Skeptical? Try it and see for yourself. Self-conscious? Fake it 'til you make it, folks. This is the important stuff of being human: talking to and goofing off and laughing and sharing in games and stories and life with one another. The family that plays together stays together.
Reference
Purvis, K.B., Cross, D.R., and Sunshine, W.L. (2007). The Connected Child. New York: McGraw-Hill.
© Copyright 2014 GoodTherapy.org. All rights reserved.
The preceding article was solely written by the author named above. Any views and opinions expressed are not necessarily shared by GoodTherapy.org. Questions or concerns about the preceding article can be directed to the author or posted as a comment below.