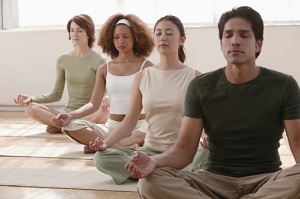 Meditation makes people feel good—or in most cases, better than they were feeling prior to entering a meditative pose. Mindfulness practice, in particular, has gotten quite a bit of positive attention in the medical community. Research has shown that it reduces stress, inflammation, and burnout. Apparently, it also alters genes.
A recent study, published in Psychoneuroendocrinology and conducted by researchers in Wisconsin, Spain, and France, examined the neural effects of "intensive" mindfulness meditation in a group of seasoned meditators as compared with an untrained group who simply remained "quiet," but not meditative, during the same time period.
Following eight hours of mindfulness practice, researchers observed a range of genetic and molecular alterations in the meditating subjects, including a reduction in levels of genes that are known for being pro-inflammatory. This anti-inflammatory effect on the genes also triggered higher cortisol recovery in a social stress test.
Mindfulness-based techniques are already endorsed by the American Heart Association as a preventative intervention in inflammatory conditions, as they are known to aide in stress reduction and decreased inflammation. But this is the first study to establish specific mindfulness-induced molecular changes in the body.
As Richard J. Davidson, a professor of psychology and psychiatry at the University of Wisconsin (UW)-Madison and the author of the study, said in a recent report, "Our genes are quite dynamic in their expression and these results suggest that the calmness of our mind can actually have a potential influence on their expression" (Medical News Today, 2013).
Another study conducted by researchers at UW-Madison showed that teachers, specifically, can reduce stress and burnout as well as improve classroom organization and self-compassion by incorporating 15 minutes of mindfulness meditation into their daily routines (2013). Breath awareness is one of the key components to any form of meditation, and the mindfulness techniques employed by the 18 teachers who participated in the study also included the practice of "dropping in."
When a person does this, he or she is essentially checking in with the thoughts, feelings, and physical sensations present in the mind and body at any given moment. Simply becoming more aware of these inner truths makes a person more cognizant not only of his or her own current state but also attuned to the thoughts and emotions of others.
The hope of the study's lead researcher, Lisa Flook, is that increased calmness and compassion in teachers will result in more effective guidance and nurturing of the children and adolescents in their classrooms.
References:
Medical News Today (2013, December 9). Mindfulness meditation affects gene expression. Retrieved from http://www.medicalnewstoday.com/releases/269873.php
University of Wisconsin (UW)-Madison. (2013, August 28). Study shows mindfulness training can help reduce teacher stress and burnout. Retrieved from http://www.news.wisc.edu/22069

The preceding article was solely written by the author named above. Any views and opinions expressed are not necessarily shared by GoodTherapy.org. Questions or concerns about the preceding article can be directed to the author or posted as a comment below.