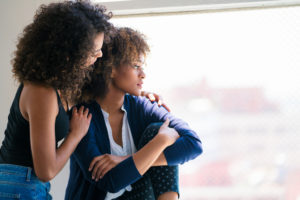 The Lancet has published new research on the link between police shootings and mental health. The study found police shootings of unarmed black people undermine mental health in black communities.
According to the study, police kill more than 300 black Americans each year. At least a quarter of those killed are unarmed.
How Police Shootings Undermine Black Mental Health
The study gathered data from the 2013-2015 Behavioral Risk Factor Surveillance System (BRFSS). The BRFSS is a population study involving interviews covering a wide range of health risk factors. For example, one question asked people how many days in the past month their mental health was "not good."
Investigators then combined this data with novel data on police killings. The team counted police killings of unarmed black people in each interview participant's state. They only recorded police killings occurring in the three months before the BRFSS interview. This data enabled them to estimate which participants were exposed to police shootings of unarmed black people.
103,710 black Americans participated in the interviews. Among these people, 38,993 were exposed to one or more police killings in their home state.
Black Americans exposed to nearby police shootings reported more "not good" mental health days. The study estimates that, on average, police killings account for an extra 1.7 days of poor mental health per year. The largest effects on mental health occurred within two months of exposure.
Mental health effects were only linked to police killings of unarmed people. When police killed armed individuals, black participants' mental health remained the same.
White participants had no mental health changes after any type of police killing. Shootings of unarmed black people had no effect. Neither did shootings of unarmed white people.
America's history of institutional racism plays a role in the increased distress among black people. The study shows police killings of unarmed people have specific, measurable effects on black mental health. Police shootings often have far-reaching consequences for black communities.
Trauma and Black Mental Health
A wide range of cultural factors can affect a person's mental health. Research consistently finds that black people are more likely than white people to experience mental health concerns.
The chronic stress of trauma, discrimination, and poor mental health can have serious physical health consequences. Research suggests black women exposed to police violence are more likely to develop severe health issues. Erica Garner, who became a police reform activist after her father was killed by police, died of a heart attack in 2017 at the age of 27.
Therapy can help people cope with painful social realities and the vicarious trauma of exposure to violence.
References:
Black & African American communities and mental health. (2017, April 03). Mental Health America. Retrieved from http://www.mentalhealthamerica.net/african-american-mental-health
Bor, J., Venkataramani, A. S., Williams, D. R., & Tsai, A. C. (2018, June 21). Police killings and their spillover effects on the mental health of black Americans: A population-based, quasi-experimental study. The Lancet. Retrieved from https://www.thelancet.com/journals/lancet/article/PIIS0140-6736(18)31130-9/fulltext
Eligon, J. (2018, June 21). Police killings have harmed mental health in black communities, study finds. New York Times. Retrieved from https://www.nytimes.com/2018/06/21/us/police-shootings-black-mental-health.html
Smith, C. A. (2018, January 05). The fallout of police violence is killing black women like Erica Garner. PBS.  Retrieved from https://www.pbs.org/newshour/nation/the-fallout-of-police-violence-is-killing-black-women-like-erica-garner
© Copyright 2018 GoodTherapy.org. All rights reserved.
The preceding article was solely written by the author named above. Any views and opinions expressed are not necessarily shared by GoodTherapy.org. Questions or concerns about the preceding article can be directed to the author or posted as a comment below.