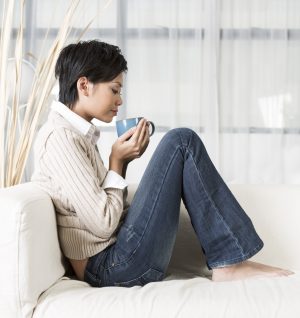 Becoming your own best friend is the most powerful thing you can do to care for yourself in a compassionate, loving, and forgiving manner. We are all unbelievably hard on ourselves on a daily basis. We do not need to read about standards of beauty, intelligence, and performance on social media in order to measure ourselves against others—we do this on our own in a fierce, unhealthy, and often mean manner.
Many times we are our own best selves in the caring of others. With our friends, we are kind, gentle, loving, and forgiving. Think of the last time you were a good friend. Maybe you got a phone call and someone you care about asked you for help, a warm shoulder to cry on, or a compassionate ear. Maybe you met for coffee and sat focused and centered on your friend as he or she shared with you some hurtful experience or challenge. What did you do? How did you act?
A good friend is someone who doesn't judge you and provides a safe environment for you to let your guard down. We love our BFFs. We nurture these connections as they become crucial to the way we handle the ups and downs of our lives.
Unfortunately, we rarely show this same compassion and unconditional love to ourselves in the everyday challenges we are faced with. In place of this gentleness, we find ourselves living with a judging tyrant inside our heads who is critical, cruel, and often cynical, making us feel less than good enough or worthless. If you could replace that judge with an internal BFF, you may learn how to care about yourself in a compassionate, meaningful way that frees you up to pursue your life in a new light.
How do you do this? It's actually pretty simple.
Perhaps a person shares some form of critical self-judgment, such as looking in the mirror and hating what he or she sees because (insert negative thoughts here). Or perhaps a person cuts himself or herself down with words such as, "If only I wasn't so (lazy/unmotivated/undisciplined/tired), I would be better at (fill in the blank)."
I ask the person to take the scenario and imagine that a best friend is sitting in front of him or her, making these self-judging statements. Imagining being the listener, the person knows just how to soothe the friend's self-criticism. It's remarkable, actually, how easy it is to know what to say. When you love someone unconditionally, you are able to share your love and help the person feel cared about for his or her perfectly imperfect self.
This BFF trick can help with almost any challenge you may find yourself struggling with. Make a mistake at work that you are beating yourself up for? Feel like you are not being the perfect parent? Is your partner not listening to you or validating your needs? No matter what the internal judgment is, I encourage you to take a minute to breathe and imagine how you would support your best friend if this scenario was playing out over a cup of coffee and your friend was sharing the same story. What would you say? How would you help the person forgive himself/herself or become his or her own advocate for fair treatment?
The best part is that when you see how successful you can be at internalizing your best friend, you get to have your BFF with you everywhere you go. As you hone this skill, you become an advocate and warrior for yourself. You learn to not tolerate others treating you poorly and find the courage to stick up for yourself. You can be the most supportive, unconditionally loving person in your life to yourself.
Living your life from this perspective is empowering and provides you with one of the strongest forms of self-care there is. It is the gift of unconditional positive acceptance of you. Give it a try the next time you need your BFF and see if you can find a kinder you.
© Copyright 2014 GoodTherapy.org. All rights reserved. Permission to publish granted by Stacey Neil, LMFT, CPT, Self-Care Topic Expert Contributor
The preceding article was solely written by the author named above. Any views and opinions expressed are not necessarily shared by GoodTherapy.org. Questions or concerns about the preceding article can be directed to the author or posted as a comment below.