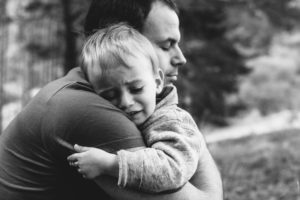 As Hurricane Irma moves toward Florida, people in Texas are still reeling from the damage of Hurricane Harvey. When natural and other disasters strike, children often suffer the most. They have less control over their lives than adults, they may not understand how or why the storm came, and they often do not have the ability to fully explain their emotions.
According to the United Nations (UN), more than 100 million youth worldwide face disasters each year. Overall, about 14% of children in the United States will experience some form of disaster. Most children recover, but about 20% experience lingering symptoms following a trauma. Some children develop symptoms of posttraumatic stress (PTSD). Others act out with aggressive behavior or turn to drugs and alcohol.
Helping children settle back into routines can help. Children also need productive ways to express their emotions. Research following Hurricane Katrina found children often view natural disasters and their aftermath much differently than their parents. This suggests parents may not understand what kids are feeling.
Research increasingly shows a child's experience of stress following a disaster can increase their vulnerability to PTSD. By minimizing stress and cultivating stability, parents may be able to preserve their children's long-term mental health.
Consumer safety advocates are urging the U.S. Food and Drug Administration (FDA) to ban the use of high-dose opioids. A new petition asks the FDA to ban pills that result in a daily dose of more than 90 milligrams of morphine. According to the Centers for Disease Control and Prevention (CDC), daily doses of morphine in excess of 90 milligrams are typically ineffective, but increase the risk of addiction. High doses can also endanger children and teenagers, who are more likely to overdose when they get access to high-dose pills.
Financial issues
are rarely just about money.
Relationships
,
self-esteem
, and mental health issues can color perceptions of finances and how money should be spent or saved. Some financial planners say they double as therapists, helping people navigate their emotional relationships with money so they can make better financial decisions.
Children's books often use friendly animal characters to impart life lessons. According to a study of 96 children ages 4-6, this strategy might not work. Researchers found children who read the same stories with different illustrations learned less when the characters were animals.
People experiencing stress, fatigue, and memory problems may worry they are developing dementia. Cognitive decline is rarely the problem among high achievers in their 50s and 60s. Severe stress undermines cognitive functioning and triggers fatigue. Addressing underlying mental health problems could also improve cognitive health and alleviate fears of developing dementia.
According to a study of 43 couples, relationship problems are not always about the relationship. Outside stressors are a significant factor—particularly when sleep deprivation affects one or both partners. Researchers found couples displaying high levels of hostility while fighting in a research laboratory were also more likely to be sleep deprived.
This writer says her iPhone destroyed her attention span. She put herself into "rehab" to break the addiction and restore her ability to focus. She dubs the effects of her iPhone "episodic partial attention." This distracted form of attention allows for only brief bursts of concentration.

The preceding article was solely written by the author named above. Any views and opinions expressed are not necessarily shared by GoodTherapy.org. Questions or concerns about the preceding article can be directed to the author or posted as a comment below.