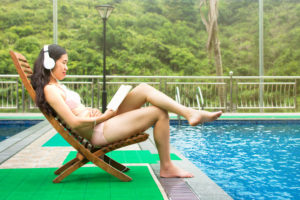 "The crickets felt it was their duty to warn everybody that summertime cannot last forever." —E.B. White, Charlotte's Web
Summer is here, and with it comes barbecues, gardening, sunshine, and vacations. It's a time of year for enjoying the outdoors and making room for you and yours. This article is dedicated to the ways summer helps us move toward a more meaningful life.
Family
During the summer, we can't help but want to connect with loved ones. This is a time of year for family reunions and connection. When we think about family and why it is important to us, words like support, togetherness, and closeness come to mind. This summer, nurture what you feel is important about family. For some, it's going to the childhood summer lake with relatives. For others, it's about opening your home to a distant relative so you can reconnect. Spend time turning your values into action by creating events with family.
Social Life
Don't settle for trivial time in front of the television. Instead, reach out to friends. Hit the park, the beach, or the pool. Summer comes with fewer reasons to say no, and it won't last. So instead of parking yourself on the couch or in your office chair, show up to a few more afternoon pool parties and enjoy some more time laughing with friends.
Romance
The days are long and the nights warm, the perfect setting for romance. Summers provide great opportunities to connect with others on a romantic or intimate level. Some may choose to seclude themselves somewhere tropical. Others may take time to enjoy nature together. Whatever your preferences, think about how intimacy can be improved for you this summer, and show your partner what they mean to you.
Work
Work and summer don't always get along, so it's important to focus on why you go to work so you can better handle how you will stay there on those gorgeous, sunny days. Some of us live to work, while others work to live. Either way, see if you have the right work-life balance by answering the following: Do I feel more pleasure or accomplished? If you feel more accomplished, maybe it's time to take a break and enjoy a dip in the pool. If you feel more pleasure, it may be time to get into a little more work.
Physical Health
When it comes to physical health, the summer provides the necessary accoutrement to get on top of any goals you've set. Because the body and mind are connected, the best way to feel good emotionally is to feel good physically. With warm days and nights upon us, there is no better time to focus on fitness.
Personal Growth
Each one of us is looking to grow in one way or another. Growth may come from learning a new instrument or starting a new job. Growth involves confrontation. We each must confront our fears and challenges head-on, and summer is no time to stop. Enjoy a summer afternoon, but when you wake up, don't forget to ask these questions: (1) What kind of person do I want to be today? And (2) what do I need to do to be that person?
Hobbies
Hobbies and summer go together like apple pie and the Fourth of July. Get out there and hike, fly a kite, or learn guitar. Hobbies help us attract to life by engaging our hearts, minds, and bodies. They also help us develop confidence. Try the five-hour practice rule. Whatever your hobby, practice one hour per day, five days per week. By the end of the summer, imagine where you will be!
Spiritual Life
Spirituality is never something to be lazy about. Each one of us has something with which we feel connected. Spirituality doesn't mean we believe in this or that, but that we are searching for answers to unanswerable questions. The journey is more important than the destination. This summer, be sure to take time to reflect on what is beyond your reach. Whether you look to the stars, walk in nature, or sit in prayer, use the quiet days to connect to what matters.
Parenting
The kids are out of school. For many busy parents, this can be a hectic time of juggling work and kids' activities, extra dirty laundry, and an extra messy home. Amid the controlled chaos (wishful thinking), try to focus on what you value about being a parent. For you, parenting might mean role-modeling fun and adventure or showing your children the world via travel and day trips. Whatever you value about parenthood, use this time to move you closer to your children.
Money
Vacations and amusement parks can get expensive. Sitting at home all day may be cheap, but it might not be much fun. Some of you are spenders, others savers, and others still a combination. This summer, observe your value for money. If you are someone who throws caution to the summer breeze and spends more between June and September, take a moment and consider if it is worth it. Hopefully it is! If you are more likely to save your money and not do anything, ask yourself if you could have used more fun.
Community
It is easy to forget about our role in the community. Summer can be a time of sharing and helping. There are many volunteer opportunities and worthy causes. What is important to you about the community? Are you concerned about safety or beautification of your neighborhood or city? Take some time to think about why community is important to you and see what you could do to help the world around you.
Whatever is important to you this summer, remember to create action around your values. Life happens at the level of what we do, not what we think. Our values are actualized in the material world, not in the mind's eye. So get out there and have a great summer!

The preceding article was solely written by the author named above. Any views and opinions expressed are not necessarily shared by GoodTherapy.org. Questions or concerns about the preceding article can be directed to the author or posted as a comment below.