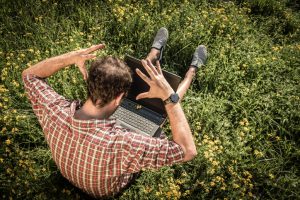 "What can I do NOT to feel angry?" As a psychotherapist, it's a question I hear often. Many people believe anger is "bad" and they should not experience it. Yes, anger is an uncomfortable emotion, one many of us prefer not to feel, but the fact is we cannot eliminate anger from our emotional makeup. If we can learn to accept anger and, even more, to appropriately embrace it, we can make productive use of its purpose. Sincere empowerment does not come from the absence of anger, but rather from transforming our relationship to it and learning how to manage and direct its energy.
The great inventor Thomas Edison once said, "Negative results are just what I want. They're just as valuable to me as positive results. I can never find the thing that does the job best until I find the ones that don't." Extending this thought to anger, the negativity often associated with the emotion can also be seen as part of the process of creating growth and success.
The feeling of anger is like a low grade on a test. It is a sign we need to improve, an indication we need to continually work on our skills so we can be better the next time. We can use anger as feedback on our current situation and state of being. It is not our final grade, just an interim mark directing us toward higher achievement.
Anger is an opportunity to learn, adjust, and get closer to where we want to be. Anger is not failure, but rather a teacher. Anger, like other emotions, exists to convey information. Anger is raw, unprocessed feedback that comes with a negative result. It is an internal impulse to an undesirable reality or change.
The anger mechanism is part of our primitive emotional system. It may not always be accurate, but it is sophisticated. It is designed to minimize threat or danger and to increase pleasure and reward. The anger mechanism is very reactive and impulsive and focuses on the here and now. Since it mostly concentrates on our immediate hurt, threat, or danger, anger has a narrow perspective and often makes us lose sight of the big picture—our long-term benefit.
Anger is an opportunity to learn, adjust, and get closer to where we want to be. Anger is not failure, but rather a teacher. Anger, like other emotions, exists to convey information.
Once we understand the anger system—the way it operates as well as its benefits and limitations—we can use it as a guiding tool. Anger may have evolved initially to help us with survival or to help establish primitive fairness and justice. Today, however, anger has a limited application for a scarce, yet critical, survival service. Accordingly, we need to use anger differently and apply it in a more constructive and effective way.
Anger is like a compass, pointing us in a general direction (right direction, wrong direction, moving toward or away from our intended destination). But like a compass, which only shows the fastest way to a physical destination and does not indicate all the obstacles (mountains, rivers, etc.) in between two points, anger also has limitations. Anger only tells us something is wrong, that we're reacting to some wrinkle in the plan or consequence to choices made. It does not inform us on how to get to our desired destination, as that is the job of our intelligence and wisdom, which is a more elaborate and comprehensive system.
To metaphorically summarize this idea, anger gives general, quick, and reactive feedback in a given moment and situation. It is a first-response mechanism that, if used properly, can serve to activate our intelligence and wisdom. Our wisdom can then determine how to best respond to the angering challenge, helping us get to where we need to go, while considering the challenges as well as the big picture.
If possible, next time you experience anger, ask yourself how your anger can help you to better understand yourself, your situation, your needs, and how it may be pointing to an area of your life that needs to be addressed or adjusted. Anger asks you to pay careful attention and to take the necessary steps to improve yourself or your situation. In this way, anger is a good thing, a positive call to action.
© Copyright 2016 GoodTherapy.org. All rights reserved. Permission to publish granted by Moshe Ratson, MBA, MS, LMFT, GoodTherapy.org Topic Expert Contributor
The preceding article was solely written by the author named above. Any views and opinions expressed are not necessarily shared by GoodTherapy.org. Questions or concerns about the preceding article can be directed to the author or posted as a comment below.