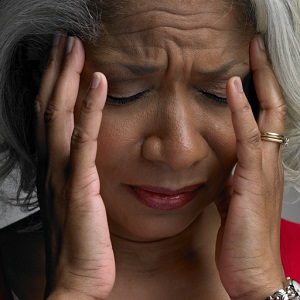 If you have ever experienced a migraine, you can understand how painful and debilitating they can be. While there are different types of headaches, each with their own set of symptoms, migraines are a severe variety that can stop a person in his or her tracks. A migraine is a neurological syndrome frequently associated with nausea or vomiting, sensitivity to light, sensitivity to sound, and throbbing pain often felt on only one side of the head (Olesen).
Certain individuals with migraines also experience an aura before or just after a migraine starts (Olesen). An aura is a group of symptoms, such as visual or auditory changes, that signal a migraine is about to begin.
Individuals who experience chronic migraines can spend a great deal of time in pain. Chronic migraines are defined as occurring 15 or more days a month, with headaches lasting at least four hours or longer, for three consecutive months (Olesen). The 2011 American Migraine Prevalence and Prevention study found that 1 to 2% of Americans suffer from chronic migraines, with more women diagnosed than men.
For those who experience them, chronic migraines can disrupt daily activities and reduce quality of life. Recurrent migraines not only cause physical distress, but can also put a strain on relationships and performance at school or work. Individuals with chronic migraines are also 2 to 5 times more likely to have a diagnosis of depression or anxiety (Jette).
These findings do not imply that psychological distress alone causes recurrent migraines, as there are often multiple causes implicated. Other factors that have been implicated in triggering recurrent migraines include diet, hormonal changes, medication overuse, and lack of food or sleep (Kelman). Researchers have also found that genes play a role.
As our understanding of migraines improves, there are important implications. First, it is important for physicians to be aware of the relationship between migraines and mood. Regularly screening those with migraines for problems such as depression and anxiety may assist individuals in getting needed psychological help.
Additionally, treating depression and anxiety in people who have migraines may lead to better physical outcomes. Research has shown that untreated problems with depression and anxiety can interfere with adherence to medical treatments, diminishing their effectiveness.
The bi-directional relationship between chronic migraines and psychological distress also highlights the importance of treating depression and anxiety when these problems first develop. It is common for individuals who are depressed or anxious to experience pain. If psychological problems are left untreated, episodic problems with pain may become more chronic.
It is clear that both the psychological and physical aspects of migraine need to be addressed. The good news is that effective treatments for anxiety and depression exist, such as cognitive behavioral therapy (CBT) and interpersonal therapy.
Some studies have also found that behavioral therapies such as relaxation techniques and biofeedback training are also effective in treating migraines (Blanchard). The goal of these therapies is to help individuals learn how to promote feelings of relaxation and calm. Therapy may be an important addition to the treatment of chronic migraines, providing short-term and long-term benefits to those with migraines and helping to improve their quality of life.
References:
Olesen, J. (Chairman.) Headache Classification Subcommittee of the International Headache Society. The International Classification of Headache Disorders: 2nd edition. Cephalalgia. 2004;24(suppl 1):9-160.
Jette, N., Patten, S., Williams, J., Becker, W., Wiebe, S. Comorbidity of migraine and psychiatric disorders. A national population-based study. Headache. 2008;48:501-516.
Breslau, N., Davis, G.G., Schultz, L.R., Paterson, E.L. Migraine and major depression: A longitudinal study. Headache. 1994;34:387-393.
Kelman, L. The triggers or precipitants of the acute migraine attack. Cephalalgia. 2007;27(5):394-402.
Blanchard, E.B., Appelbaum, K.A., Radnitz, C.L., Morrill, B., Michultka, D., Kirsch, C., Guarnieri, P., Hillhouse, J., Evans, D.D., Jaccard, J., & Barron, K.D. (1990). A controlled evaluation of thermal biofeedback and thermal biofeedback combined with cognitive therapy in the treatment of vascular headache. Journal of Consulting and Clinical Psychology, 58, 216-224.
© Copyright 2014 GoodTherapy.org. All rights reserved. Permission to publish granted by Magdalene Peter, PhD, Chronic Pain Topic Expert Contributor
The preceding article was solely written by the author named above. Any views and opinions expressed are not necessarily shared by GoodTherapy.org. Questions or concerns about the preceding article can be directed to the author or posted as a comment below.