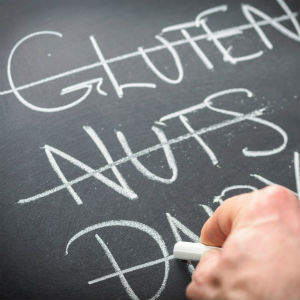 Meg Ryan, in the film When Harry Met Sally, led the way for people who are particular about their food. Unfortunately, that was done for comedic effect, and the joke was on her: Listen to this crazy person being too needy about how her food is prepared.
In the ensuing decades, all kinds of food sensitivities and allergies have popped up. Parents can't bring peanut butter cookies to their kids' classrooms anymore, and when asking someone out for dinner you need to consider more than whether he or she is a vegetarian.
Adjusting to Lifestyle Changes
Once you discover a sensitivity or food allergy, your life is altered. Suddenly, life can feel like one big bagel buffet to a person newly diagnosed with celiac disease. Anyone who has been on any kind of diet knows that the minute you're told something is off limits, its appeal increases a hundred-fold.
After the first few hours (or days or weeks), the initial shock should dissipate and you'll have time to do some research. You can reach out to others who have been managing this issue and hopefully discover some friendly places to eat out. (If you haven't done this yet, get Googling.) More than likely, there is someone who has gone through this and started a blog about it. Educating yourself is the most important step. You're going to have to eat—probably in the next few hours—so you're going to want to find what doesn't make you sick as soon as possible. Self-discipline is essential to any diet, whether the goal is to lose weight, lower your cholesterol, or calm your gastrointestinal tract.
Other People's Reactions
Now that the change has had a chance to marinate and you've discovered the best place to buy hemp milk or rice bread crumbs, it's time to deal with other people. Anyone who has been diagnosed with or self-diagnosed a food sensitivity is familiar with the stares and the eye rolling once the wait staff turns to them for their order. If it weren't for the very real physical consequences of a gluten un-free meal, many would just point to the menu and be done with it.
Some strong-stomached people I've spoken with express annoyance that they are being subjected to new diet "crazes," and others just don't understand why some people can't handle certain foods. They don't get it, and seem to not want to try. If we're honest, we might even have been one of these people prior to our discovery of our own bodies' changing needs. Necessity has helped us discover greater stores of empathy for others—and, hopefully, ourselves.
A Common Stumbling Block: Shame
When a buddy scoffs when asked if there is wheat in the gravy, or when you're mocked for inquiring about dairy-free alternatives, it's a good idea to get in touch with what you're feeling instead of reacting defensively. A common response to a dietary change is shame: "Oh, I'm becoming one of 'those' people. I'm now the guy that is going to make other people have to work harder to accommodate me." Shame may continue to underlie a lot of our motivations, especially if we are not fully aware of it.
Shame comes up a lot in therapy sessions. It is even what keeps some people out of therapy offices and on the Internet. Being able to move through this can give you valuable information: you can survive, and you might even find more happiness once you start being self-sufficient in having your needs met.
You see, what we often forget is that shame most often pops up when we are choosing to take care of ourselves in a way that differs from what society expects. It's what appears when we show our individuation and when we take a step, no matter how small, away from the crowd. Shame can be a strong reminder that we are making a choice, and we get to decide whether it is worth it.
Some points if you are experiencing a food sensitivity:
Take a breath and know that you are taking care of yourself.
It may lessen some anxiety if you have some directives prepared. Example: "I'm unable to eat dairy. Can you tell me if this is cream-based?"
Try not to apologize—you're not doing anything wrong.
Follow up a snide comment with something like, "I don't like having to limit my diet, either."
Be appreciative of others' sensitivity to yours. Example: "Thanks for being patient." Note: not an apology.
If you're a friend of a person with a food sensitivity:
Ask about it if you're interested. The person may appreciate the opportunity to talk about this change. There can be a thin line between showing curiosity and judgment. Know which you're expressing because the other person is expecting the latter.
Don't feel you have to limit your own eating habits, and don't apologize when you offer a bite of your pasta. Just say, "Oops!"
Remember: your friend is just as hungry as you are.
Happy eating!
© Copyright 2014 GoodTherapy.org. All rights reserved. Permission to publish granted by Justin Lioi, LCSW, Relationships and Marriage Topic Expert Contributor
The preceding article was solely written by the author named above. Any views and opinions expressed are not necessarily shared by GoodTherapy.org. Questions or concerns about the preceding article can be directed to the author or posted as a comment below.