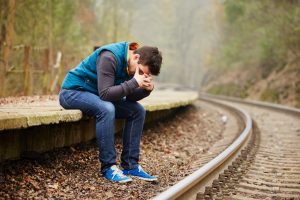 As 2016 fades behind us, many wonder what the months ahead will bring. Depending on whom you ask and where you look, there is hope, anticipation, and perhaps concern as we attempt to shape our lives amid uncertainty and instability. Life brings unexpected changes, and we are too often expected to react quickly; few get the luxury to hit the pause button on life and process what is happening.
2016 challenged many people to engage with significant change and loss. From the deaths of beloved celebrities including Prince, David Bowie, Carrie Fisher, and George Michael, to the passing of activists and heroes including Muhammad Ali, to untold personal losses—it's fair to say most Americans experienced some type of loss in the past year. Many still grapple with grief, bereavement, and the change that comes from loss.
While there are some structures—such as funerals, burial ceremonies, and memorials—designed to hold space for the process of bereavement associated with death, grieving the loss of the living or of something less tangible can be more complicated. How does one grieve the loss of an ideal or a belief—as so many Americans experienced in the recent presidential election? How does one grieve the loss of a friendship or relationship—not because the person has passed away, but because of changes that have disrupted the core of the relationship? These losses often feel as meaningful and real as if someone has passed away, but there is often no structured path for grieving and honoring that which has been lost.
The Kübler-Ross model—a frequently referred-to model for understanding grief—outlines five stages that people commonly experience, albeit not necessarily in this order:
Denial
Anger
Bargaining
Depression
Acceptance
A brief description of the stages follows, but more comprehensive information can be found in the defining text On Death and Dying, written by Swiss-American psychiatrist Elisabeth Kübler-Ross.
This page contains at least one affiliate link for the Amazon Services LLC Associates Program, which means GoodTherapy.org receives financial compensation if you make a purchase using an Amazon link.
Denial
One may not want to believe the change is happening or that a loss is taking place. One might not even use the language of "loss" or "grief."
Anger
Once the loss is realized, one might become angry at oneself or at another person. This may result in blaming/shaming behavior.
Bargaining
One might attempt to find a way to negate the loss. This may result in attempting to negotiate terms or values with the other person.
Depression
One might experience depressive symptoms—low energy and motivation, sleep disruption, lack of interest—after realizing there might not be anything that can be done to directly change the situation.
Acceptance
One may come to accept that a loss has occurred. This may manifest by disengaging with the other person or ceasing trying to change the situation.
Using this model may help some people cope with living grief—that is, grief that is not linked to death bereavement or a specific person/relationship. Understanding the stages may allow a grieving person the opportunity to recognize where they are in their grieving process and, more importantly, to decide how they want to engage with grief.
Are you grieving and stuck in a stage? Here are a few questions to ask yourself:
Is this grief? Knowing that grief need not be linked specifically to death, are there relationships or ideas you feel have been lost to you? Have you given yourself time to reflect on what or who you might be grieving?
Is denial so strong that you have not been able to acknowledge a loss and enter the grieving process?
Is anger overwhelming your ability to disengage from a shaming/blaming pattern?
Depression may lead to an inability to think and act beyond the loss, and may lead to greater feelings of helplessness. Has depression created a barrier for you?
Has acceptance of the situation led you to think about what's next or did it move you to resignation and possibly back into the anger or depression stages?
Grieving relationships with the living need not focus on letting go of the relationship. A fracture in a relationship need not destroy all positive memories of the past or set the stage for all future interactions. It may mean honestly acknowledging that something has changed and that in that change there has been a loss of connection. Processing that loss through the model may allow one to reengage in a different—possibly even healthier—way with other.
For some in the coming year, moving through grief with the living may mean having hard conversations with friends or family due to different, contradictory, or conflict-inducing choices. For others, moving through living grief may involve moving through the stages of grief regarding sociopolitical realities and then finding ways to reengage intentionally and thoughtfully in ways that best reflect one's values.
Processing loss is far from linear. However, by understanding where you may be getting stuck, you might find opportunities to support yourself through the stages and, ultimately, to reengage in your life in intentional and meaningful ways. If you find yourself unable to get unstuck at any point, a professional counselor can help.
Reference:
Kübler-Ross, E. (1969). On Death and Dying. New York, NY: Routledge.
© Copyright 2017 GoodTherapy.org. All rights reserved. Permission to publish granted by Deanna Richards, LMHC, therapist in New York City, New York
The preceding article was solely written by the author named above. Any views and opinions expressed are not necessarily shared by GoodTherapy.org. Questions or concerns about the preceding article can be directed to the author or posted as a comment below.