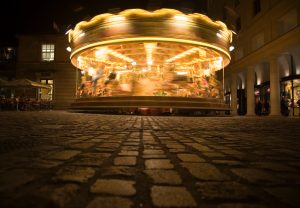 It was 1:30 p.m. on a Monday when a man walked into the therapy office for his usual therapy session, taking his usual seat on the leather couch and crossing his legs in that relaxed way that changes the entire atmosphere of a room. The light had shifted, I thought, as our eyes met and I tracked his expression to see where to begin our session. Actually, I realized, the light hadn't shifted. The sun sneaking in through the blinds was highlighting the same patches of couch and carpet in the way it always did in the early afternoon, but the veil of gloom that had found a home over his face had been lifted.
"So I realized something this week," he remarked, eyes aglow with wonder. "All my life I've been taught to 'tough it out,' you know? To bounce right back up when you fall, to 'be a man' and move on. Worked really well for my career and in sports, for sure. Honestly, even with my marriage. But you know something? This doesn't work with grief." Alejandro, a handsome lawyer with an athletic build in his late twenties, had never known deep loss, let alone any serious failure, in his whole life. Up to this point, Alejandro had been dealt a sweet hand of cards: successful, wealthy, popular among his group of friends, the star of his high school soccer team, and happily married—until nine months ago when he lost his young wife to an aggressive form of cancer. It was only a few months from when the newlyweds got the diagnosis to when he was saying his goodbyes to his best friend and soulmate of seven years, who was nestled cozily in a silk-lined open casket.
sadness
. Once I did that, I felt like I could finally let it go," Alejandro explained, in a slow and measured tone, as if the words were leaking out of the depths of his being.
Alejandro had been doing a lot of "just being" with his feelings for several months. He struggled for many weeks with allowing himself to feel sad, then mad, then confused, then sad again. His stoic attitude and forward movement towards life was deeply ingrained into every fabric of his being. It wasn't until his wife's death did he discover that life had another gear he could shift into.
How can we learn to slow down in a country that so viscerally enforces the high-geared, testosterone-driven approach to productivity? Many of us do not believe we have the time to stop and grieve, or even know what it means to grieve. The average employee typically has up to three workdays of bereavement leave, as if that is the designated timeline to recover from loss. We do not even have a place to take our grief; it doesn't seem to fit in anywhere in our daily lives. As a result, we feel left with no other choice but to "get over it," and keep up with the rest of the world's tireless pace.
It doesn't help that to the general public, grieving is awkward. Grief in the American culture is like the "third rail," an untouchable subject that seems too controversial to discuss. We are afraid of not saying the right thing, upsetting the other person, or even more distressingly, afraid of gazing into the certainty of our own inevitable mortality. In a culture that so highly prizes youth and productivity, death seems to have no place in our thoughts. As a result, the bereaved feel exiled as the harbinger of truth that nobody wants to remember.
As much as we as a society try to avoid it, grief cannot be ignored. When we choose to deny its existence, we deny ourselves the love we feel for what we have lost, and for what might have been. We deny ourselves the space to say goodbye, and in equal importance, we deny ourselves the space to acknowledge what seeds the loss has planted inside of us.
As Alejandro began to heal from the sudden loss of his wife, he discovered that his grief planted a seed within him: it was his grief that deepened his appreciation for those in his life now, and grief that gave him the know-how to support those in the grips of their own loss. His heart had broken open. Through connecting with others, he cultivated an outlet for his love to grow on after his wife's death, for that love to be recycled back into his own community, and back into the world. When we don't grieve our losses, that love goes untapped.
We can choose to see grief as a gift: a painstaking opening of our hearts, a stripping away of the unessential, urging us to love more fiercely, to care more deeply, and to listen more actively to the grief of the world in which we live.
What can we do as a society to shift the paradigm from grief as taboo, to grief as necessary medicine—a medicine our world so desperately needs right now? We can choose to see grief as a weakness or flaw, something we experience privately in embarrassment. Or we can choose to see grief as a gift: a painstaking opening of our hearts, a stripping away of the unessential, urging us to love more fiercely, to care more deeply, and to listen more actively to the grief of the world in which we live.
Learning how to grieve means trusting that on the other side of the grief coin is love, a salve to heal the isolationism and dividedness within ourselves, our interpersonal relationships, and in the current trend we are taking as a global society. As a witness to another's grief, challenge yourself to sit with the uncomfortable feelings that come up. Learn to face whatever it brings up inside you, rather than projecting your own fears, judgment, and denial onto the person in grief.
Learning how to grieve means taking a vow to remember and honor the delicate, transient nature of life. Hold it in the palm of your hand as a reminder of the impermanence of our existence. In that quiet wisdom, build a deeper connection to one another—all of us visitors here for an uncertain period of time, all of us susceptible to the same undeniable fate. Choose the culture of awareness, strength, and vulnerability over contributing to the culture in denial of it.
We all have a role to play to create a healthier culture. We can do our part in reshaping the meaning of grief by trusting it: let it shape and transform us, and in time, it will bring us to the love. It is far better than reactively pushing the grief away, and distorting unprocessed grief into blame and shame towards others. Let go of the need to be productive, no matter how much our American work ethic has promoted it. Remember that productivity, in the emotional sense, is quite the opposite: choose to just be. Have reverence for grief as a catalyst to societal transformation and exert your influence. The change begins with you.
References:
On the effects of testosterone on brain behavioral functions (2015, February 17). Retrieved from http://www.ncbi.nlm.nih.gov/pmc/articles/PMC4330791/
Examining Paid Leave in the Workplace (2008, October). The Society for Human Resource Management. Retrieved from https://www.shrm.org/resourcesandtools/hr-topics/documents/09-0228_paid_leave_sr_fnl.pdf

The preceding article was solely written by the author named above. Any views and opinions expressed are not necessarily shared by GoodTherapy.org. Questions or concerns about the preceding article can be directed to the author or posted as a comment below.