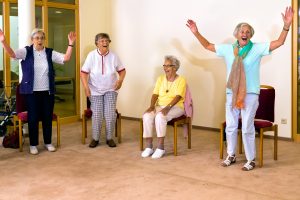 Researchers at Georgia State University have revealed a combination of laughter and moderate exercise can help seniors improve mental health while also boosting their physical stamina and motivation. They call this program LaughActive.
Regular exercise is beneficial for people of all ages, but the study's authors point out that a common hurdle for seniors when it comes to exercise is maintaining motivation. The report sought to determine if infusing laughter with physical exercise could help seniors exercise for longer periods of time, as well as feel more motivated to do so.
The Centers for Disease Control and Prevention currently advises adults age 65 and older to get at least 75 minutes of vigorous exercise per week or 150 minutes of moderate exercise. It is also recommended for seniors to do exercises or activities that focus on strengthening muscles at least two days per week.
Adding Laughter Breaks to Exercise Sessions
The researchers began by recruiting 27 assisted living facility residents who would each attend two weekly 45-minute sessions for six weeks. The strength and flexibility training was mixed in with several laughing breaks lasting less than a minute.
Just over 96% of participants found the inclusion of laughter to be a positive addition, with 89% saying it aided with exercise stamina and motivation.
Laughter May Be 'Best Medicine' for Seniors
In addition to the physical benefits, the researchers say LaughActive was also associated with significant improvements in seniors' mental health. Previous research indicates laughing can help improve sleep, reduce stress and anxiety, and soothe tension.
The report acknowledges the small sample size of the study and indicates further research is needed to determine how and why laughter can be beneficial.
References:
American Heart Association. (n.d.). Humor helps your heart? How? Retrieved from http://www.heart.org/HEARTORG/HealthyLiving/Humor-helps-your-heart-How_UCM_447039_Article.jsp#.V-vhf5MrJds
Mora-Ripoll, R. (2010, December). The therapeutic value of laughter in medicine. Retrieved from http://search.proquest.com/openview/720c8476166aed6486eca8f81cfe8c44/1?pq-origsite=gscholar
Whiteman, H. (2016, September 19). Laughter may boost physical activity, mental health for seniors. Retrieved from http://www.medicalnewstoday.com/articles/312971.php
© Copyright 2016 GoodTherapy.org. All rights reserved.
The preceding article was solely written by the author named above. Any views and opinions expressed are not necessarily shared by GoodTherapy.org. Questions or concerns about the preceding article can be directed to the author or posted as a comment below.