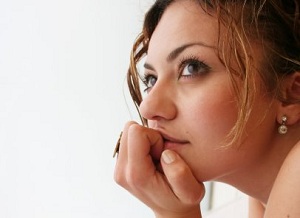 Can you fall in love with someone you don't even know? If you're like most of us, at some point in your life you had a mad crush on someone you barely knew. It might have been a rock star, an actor, or a super-cute neighbor. Whoever it was, you were totally into them even though you may not have known much about them at all.
But if you actually got to know the person over time, chances are you found out that they were just human beings. They had all kinds of quirks and problems like the rest of us. What happened then? You might have lost interest…or maybe you found your true love. Real love can only happen when you know someone well. What you love when you truly love someone isn't just something about the person, like their looks or their singing voice. It's who they really are on the inside. Love that's based on knowing someone is deeper and longer lasting than the blind infatuation of a crush.
Self-esteem is a love that's based on self-knowledge. It is the act of esteeming – that is, valuing and loving – your real self. But who is that? Who is the Self you're supposed to esteem? You've got to know who you really are in order to have high self-esteem. If your self-esteem could use a boost, you might want to get to know yourself a little better. Here is a simple method for doing that. Don't be fooled by its simplicity. Taking this exercise to heart can create profound changes in your life.
Exercise: "I like it" / "I don't like it"
This is a silent game you play in your head as you go about your day. Whatever happens, no matter how small or inconsequential, take a moment to decide whether you like it or you don't like it.
Here's what it looks like. You're getting ready for work in the morning and you're eating your cereal. You think to yourself, 'Do I like this cereal? Or do I not like it?' Don't accept a neutral answer; choose "I like it" or "I don't like it." You can always change your mind next time. Just go with how you feel about the cereal right this minute.
Let's say you take the bus to work in the morning. As you stand there waiting for the bus, noticing the weather, the time of day, etc., ask yourself whether you like or don't like waiting for the bus. Once you've made your decision, move on to the next thing.
Do you like taking the bus to work? Do you like your desk? Your chair? Do you like this or that coworker? Do you like starting the day by returning phone calls? Do you like your lunch? Etc., etc., etc.
Look for things to evaluate in the moment. If something is neutral or you're not sure, you should still choose either "I like it" or "I don't like it." Don't worry too much about getting it right, especially at first. Accuracy isn't the point of the exercise. Your answers will become more accurate with time and practice. The point of this exercise is to check in with yourself regularly and pay attention to how you feel.
You might find it very hard in the beginning to know whether you like something. You might be tempted to give yourself a neutral answer like "It's okay," "Not too bad," etc. Force yourself to decide "I like it" or "I don't like it" until you get used to making these decisions. Remember, your answer today is not fixed in stone. You might answer differently tomorrow, and that's okay. Go with how you feel in the moment.
Knowing how you feel about little day-to-day things makes it easier to know how you feel about bigger things. It also gives you permission both to have a feeling (liking or not liking something) and to change your mind later. In addition, you'll gain information about yourself that you might not have uncovered if you hadn't bothered to check in.
The act of listening to what you like and don't like is an act of self-care; you're saying "It matters to me how I feel about even the small things in my life." When you matter to yourself, you are esteeming yourself. And that's what healthy self-esteem is all about.
Did you like this article? Or did you not like it?

The preceding article was solely written by the author named above. Any views and opinions expressed are not necessarily shared by GoodTherapy.org. Questions or concerns about the preceding article can be directed to the author or posted as a comment below.