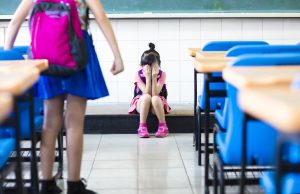 Previous research has determined students with disabilities are more likely to be bullied than their peers. A new study published in the journal Exceptional Children found overall bullying rates typically remain stable, but children with disabilities often continue to experience a high rate of bullying over time. The discrepancy in bullying rates for children with disabilities compared to those without disabilities is consistent as children grow up.
Bullying Among Children with Disabilities
For the study, researchers followed 6,531 students in grades 3-12 for three years. Sixteen percent of participants had a disability. The overall bullying rate peaked around third grade, decreased in middle school, and then increased again in high school. Children with disabilities were more likely to experience bullying in all grades and age groups, and while their rate of bullying followed the same general pattern, it remained significantly higher than that of children without disabilities.
An earlier study by the lead authors of the current study suggests bullying can trigger aggressive behavior in children with disabilities. Drawing upon a survey of nearly 1,200 middle and high schoolers, researchers concluded that children with disabilities were more likely to become aggressive in response to bullying. Bullied children targeted both bullies and non-bullies. Children with depression and low self-esteem were particularly vulnerable to the effects of bullying.
communication
and social skills training for children with disabilities. They theorize children with disabilities may lash out in self-defense because they do not know how else to respond to bullying.
The Effects of Bullying
Twenty-two percent of children ages 12-18 report being bullied at school during the past month. Both bullies and their victims can experience negative mental health outcomes, including a heightened risk of depression. Bullying can damage self-esteem, contribute to anxiety, trigger academic and social difficulties, and even cause physical health issues such as headaches. Bullying is also linked to risk of suicide.
Research suggests even just observing bullying can harm mental health. According to the Centers for Disease Control and Prevention (CDC), students who observe bullying report more feelings of helplessness and disconnection. They are also less likely to feel supported by adults, including parents and teachers.
References:
Bullying likely to result in aggressive responses by children with disabilities. (2016, October 3). Retrieved from http://munews.missouri.edu/news-releases/2016/1003-bullying-likely-to-result-in-aggressive-responses-by-children-with-disabilities/
Bullying rates remain higher for children with disabilities, even as they mature. (2016, November 28). Retrieved from https://www.eurekalert.org/pub_releases/2016-11/uom-brr112816.php
How does bullying affect health & well-being? (n.d.). Retrieved from https://www.nichd.nih.gov/health/topics/bullying/conditioninfo/Pages/health.aspx
Rose, C. A., & Gage, N. A. (2016). Exploring the involvement of bullying among students with disabilities over time. Exceptional Children. doi:10.1177/0014402916667587
The relationship between bullying and suicide: What we know and what it means for schools[PDF]. (2014, April). Chamblee: Centers for Disease Control and Prevention.
© Copyright 2016 GoodTherapy.org. All rights reserved.
The preceding article was solely written by the author named above. Any views and opinions expressed are not necessarily shared by GoodTherapy.org. Questions or concerns about the preceding article can be directed to the author or posted as a comment below.