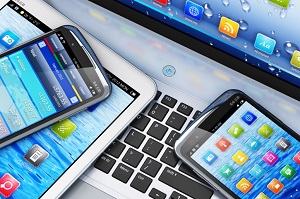 As therapists, we hear a good many questions about the usefulness and merits of social media: Are they good for us? What harm might they cause? Are they bringing us closer or interfering with closeness?
Born in the 1950s, I grew up around computers during the '60s. Not that they were everywhere. In fact, there were only two that I knew about: one was on the Starship Enterprise, and the other one was at my daddy's office, where he would sometimes take us on Saturdays when he was working. We enjoyed keying messages on "punch cards," so called because a keyboard machine, the size of a small desk, would punch holes in cardstock paper that we could then take to a machine about half the size of a refrigerator which would print what we had punched onto the card. That's right: Two large machines to produce one 80-character message on a small 6-by-3-inch card. I used my time and cards wisely by keying sweet messages to my latest object of affection. On Monday, I could deliver my love note/punch card and impress her with cutting-edge technology. Imagine the impression that must have made.
I recall this story now because, eventually, that labor-intensive process was replaced by terminals (a keyboard with a TV display) that could communicate directly with the mainframe computer. Not exactly Star Trek, but a step closer. When my dad wanted every programmer to have a terminal in his or her office (rather than share a small cluster of terminals), he was interrogated by his accountants: "Why does every programmer need one? Can't they share? It will be much cheaper." He reminded them that this was the same argument they had used with regard to telephones, and that having phones on all desks had improved the company's profitability and efficiency.
Fast forward 20 years to the 1990s, when I was lobbying to connect a large nonprofit to this new technology called email via the Internet. Our accountants complained, "Why do we need this? Won't people use it for communications unrelated to real work?" Yes, and we can easily imagine a similar conversation around the campfire of our ancestors: "Do we really need words? Aren't grunts and screams faster and more effective?"
While there will always be misgivings about our latest innovations, such doubts will not change our very human and very strong desire to improve our ability to connect with one another. Indeed, over the course of human history, it looks like we are moving through a process of expanding communication: language, writing, printing press, telegraphy, telephony, radio, mass communication, and now social media. While these technologies can be used for propaganda, spying, and other nefarious activities, they can also be used to promote justice, coordinate humanitarian endeavors, and order books.
As therapists, our work and our example can help support the positive application of social media, even as we help our clients understand that language itself is still a relatively new feature of our evolution. We are still somewhat unsophisticated with this game called language—to wit, our emotions still sometimes overcome our ability to communicate; we often cannot find a good way to tell someone that our feelings are hurt; and we struggle to find a kind word that describes how we deeply feel.
Social media will not solve this problem and may at times make it worse. But the very amplification of unintended or unfortunate consequences may help us understand and appreciate the merits of positive, affirming, and appreciative communication. Rather than focus on the technology, let's emphasize the appropriate application of the technology—one that builds connectedness, harmony, and our common good.
© Copyright 2013 GoodTherapy.org. All rights reserved. Permission to publish granted by David Harris, MS, MTS, LAPC, Career Counseling Topic Expert Contributor
The preceding article was solely written by the author named above. Any views and opinions expressed are not necessarily shared by GoodTherapy.org. Questions or concerns about the preceding article can be directed to the author or posted as a comment below.