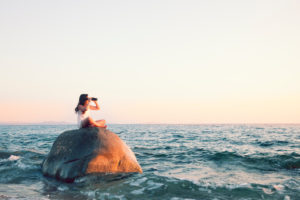 Sometimes it's very clear to us what we need to do. It's just common sense. We've been working hard, so we take a break. We're hungry, so we eat. We're lonely, so we call a friend or go out to be among people.
At other times, it almost seems as if what we do to make ourselves feel better winds up making us feel worse. And the things that could effectively address the problem are the last ones we want to do.
Imagine someone on a raft in the middle of the ocean. They are very thirsty, yet surrounded by water. So why not drink some? Doesn't it make sense to drink when you're thirsty? As it turns out, there's so much salt in seawater that drinking it would dehydrate you faster than going without. There's a simple way of desalinizing seawater. But our friend on the raft is thirsty right now, and because of this they aren't in the mood to set up a science project.
In the cases that follow, names have been changed and personal identifiers screened out in order to protect confidentiality.
Beth is experiencing depression. She stays in bed until afternoon, with the covers pulled over her head. When she does get up, she keeps the curtains closed because she prefers the dark. She doesn't go out—there's nothing she wants to do, and besides, she doesn't have the energy to do anything. So she doesn't get dressed. Since she's not getting dressed, she doesn't shower or wash her hair. She has a drink or two because it matches her mood. And she watches television, programs that match her mood. She finds that her depression worsens, which is what she expects because everything feels hopeless.
All of Beth's behaviors feel right to her. Everything she does is intended to make herself feel better. Yet her choices result in making her symptoms more intense. The key here is that she's doing things that match her mood, and her mood is depressed.
Beth has a friend who intervenes with her, finds a very good self-help book or reliable online source for coping techniques, works with her therapist, or joins a support group for depression. She makes some changes. She gets up in the morning and opens the curtains so sunlight comes in. She eats some breakfast and washes the dishes. She showers, gets dressed, and leaves her apartment. Maybe she runs errands, visits a friend, or goes for a walk in a nearby park. When she gets back, instead of pouring herself a drink she fixes a protein shake. If she watches television, she selects something funny, uplifting, or mentally stimulating. Sometimes, instead of TV, she puts on some music and dances.
None of these activities feels right when she starts them. In fact, she has to work her way up to them slowly because they're the opposite of what she wants to do. They're counter to her mood, and her mood is depressed—though now it's becoming less so.
Rick is in a period of higher-than-usual anxiety. His response to anxiety is to try to do things faster, to multitask and cram as many things into his schedule as possible, and to breathe rapidly and shallowly. Fortunately, he's developed some good self-care for when he's anxious. This includes identifying triggers for the anxiety, separating tasks out so he can address them one at a time, breaking them down into smaller, manageable steps when necessary, taking breaks, decreasing the amount of coffee he drinks, and watching gardening programs on a cable station (because they're relaxing).
But he's still having some trouble with disturbed sleep. Most nights he wakes up around 2 or 3 to use the bathroom. When he goes back to bed, he experiences arousal ("My mind starts up like a merry-go-round" is how he puts it). Rick's thoughts revolve around mistakes he feels he's made, worrying about the future, whether there will be enough money and what will happen when he gets old. There's not a lot he can do about these things at 3 in the morning.
The anxiety is physically uncomfortable. It's a sharp, painful tightness in his chest. Rick wants to resolve his problems so his body will relax and he can get back to sleep. He thinks, "I've got to get back to sleep; I can't afford to be tired tomorrow."
Rick addresses his anxiety in ways that match his anxious mood. He tries to resolve his racing thoughts by thinking. By willing himself to relax and fall asleep. By distracting himself from the uncomfortable tightness in his chest that tells him he's anxious. The result of these efforts is that he feels more anxious.
Rick reads a book, visits a website devoted to meditation practice, or brings this to the next session with his therapist. He gets some other ideas on how to respond to middle-of-the-night waking. These ideas don't make a lot of sense to him—in fact, they really seem like the exact opposite of what common sense tells him he should do. But he's getting desperate. So the next time he wakes up and can't go back to sleep, he tries them out.
Many of us try to flee pain by withdrawing our attention from it. This can result in states of increased physical tension that increase discomfort.
He focuses in his body on where he feels the greatest discomfort and tightness. His breathing has started to get faster and shallower, almost as if he's started to run. So he deliberately slows his breathing and deepens it. He deepens it so that he's breathing into and out of the tense place in his chest. When he notices that his thoughts have begun to wander and the "merry-go-round" is starting up, he doesn't try to think his way out of them or even to conclude them. He acknowledges them, promises to attend to them in the morning, and returns his focus to breathing into the tight place in his chest. Again and again, he finds that his thoughts have wandered and taken him with them. That's OK. When he notices, he lets go of them and comes back into his chest, into his body. He's not in any hurry. He's got all the time in the world.
This practice turns out to be an effective one for Rick. Over time, he turns to it more easily. For instance, when he has to get up in the middle of the night he doesn't wait for his thoughts to begin racing, but practices breathing into and out of his chest as soon as he gets back into bed.
Next, we're going to consider the practice of working by opposites with chronic pain and substance use. When dealing with physical symptoms such as pain, or when thinking about changing diet or levels of alcohol or substance use, it's important to consult with your doctor first.
Jeff lives with chronic pain. When I ask him how he does this, he says, "I focus on the pain. I get as close to it as I can, like I'm riding it. I don't have any intentions toward it. I'm not trying to reduce it or conquer it or make it go away. I get as close to it as I can and then just rest there. When it throbs, I just ride that, like I'm at the beach and a wave just rolled through. I stay with it."
Clearly, this is the opposite of what most of us attempt to do with pain. Pain is to be avoided or medicated. While these strategies are useful for occasional or acute pain, that usefulness breaks down in the presence of chronic pain. Trying to "avoid" a stable condition can feel like you're missing part of your life. And long-term reliance on pain medication such as opiates can have consequences best discussed with your prescribing physician.
Many of us try to flee pain by withdrawing our attention from it. This can result in states of increased physical tension that increase discomfort. In such circumstances, the counterintuitive practice that Jeff describes sounds odd but can result in a more relaxed state and, therefore, lower levels of discomfort. Also useful is to keep in mind that pain and suffering are not the same thing. Pain is often a component of suffering, but suffering is more than mere physical sensation. It also includes our affective response—fear, rage, hatred for self or other, feelings of despair, of overwhelm. Jeff's practice of acceptance and adaptation to pain effectively decreases this emotional component of suffering. And by doing this, it decreases suffering itself.
Finally, let's consider some folks who are looking to change their relationship to substances. Kyle and Janice don't have a lot in common. Kyle's in his forties and has begun to notice that his reliance on alcohol is becoming more of a problem than a solution. He's in the very early stages of recovery, just beginning to consider it. Janice, in her mid-twenties, has been advised by her doctor to lose weight and adhere to a particular diet in order to avoid serious health-related issues in the near future.
One thing they do have in common is that in the presence of stress—such as the stress of considering changing their relationship to alcohol or food—their first choice is to soothe themselves with alcohol or food. Kyle wants to have a drink, and Janice wants a deluxe cheeseburger and an order of seasoned French fries.
It turns out that they have something else in common as well. Each of them develops some alternative ways to get needs met. But this means that Kyle and Janice first spend some time sitting in the distressed state, craving a drink, craving fat and carbs, in order to notice the needs their substance of choice is intended to address. They do the opposite of what they most want to do. Because of this, Kyle is able to notice that drinking provides him with reward, consolation, celebration, and an antidote to boredom. For Janice, food gives her comfort, a way to soothe disappointment, ease loneliness, and provide excitement. It's easy to see how these multiple relationships to the same substances wind up reinforcing the behaviors. Both Kyle and Janice use this knowledge as a step in their recovery process.
About That Seawater …
To return to our original image, the method for desalinizing seawater is as follows. Put some seawater in a container. Place a smaller, empty container inside the first. Place a piece of plastic wrap over the top and seal it. Weight it so that the plastic is depressed over the smaller container. Place it in the sun. The sunlight will cause the water to evaporate from the seawater, rise as steam, condense on the plastic wrap and drip down into the smaller container, from which you can drink as much as you need. It takes the willingness to not follow your first impulse, and to sit for a while with your thirst. But it can be done—and it works.

The preceding article was solely written by the author named above. Any views and opinions expressed are not necessarily shared by GoodTherapy.org. Questions or concerns about the preceding article can be directed to the author or posted as a comment below.