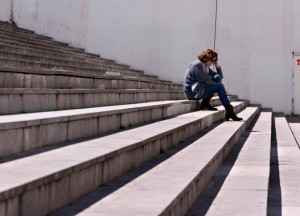 As we enter the second month of a new year, many of us have taken some time to reflect on the past year and set goals for how we want to feel better, do different, and engage in life. Successful goals are typically those that are broken into smaller, SMART goals. In that acronym, "S" stands for specific, "M" for measurable, "A" for achievable, "R" for results-focused, and "T" for time-bound. A SMART strategy can help you turn a vague goal of "travel more" into a concrete one with actionable steps, as in: "Save $200 each month in my travel fund to buy my ticket to (insert your exciting destination here)."
There are many different ways goals can be structured to improve the odds of meeting them, but there are just as many ways they can be undermined. One of the most destructive culprits goes by the name of shame.
The Difference Between Shame and Guilt
Shame is often confused with guilt, but they are not the same and ultimately can lead us down very different paths.
Guilty thinking, the sense you have done something bad or wrong, can sound something like this: I did not follow my workout schedule this week. I feel bad about that and guilty about letting my gym partner down, but I'm going to give it another try next week.
Shame, a painful feeling of humiliation or distress, sounds more like this: I did not follow my workout schedule this week. I cannot dare show my face in that gym because everyone will know. I really messed this up. I cannot go back ever again!
In short, guilt leaves room for you to feel bad and get back on track. Shame, meanwhile, keeps you stuck.
Is It Guilt or Shame?
How can you identify whether you are experiencing shame or guilt? Here's a brief checklist:
Is this feeling preventing me from doing what I set out to do?
Does this feeling leave me immobile and unable to problem-solve?
Does this feeling cause me to withdraw from or avoid situations or people that remind me of the initial issue?
Does this feeling cause me to have negative judgments about who I am as a person?
Does this feeling spill over into other areas of my life?
If you answer yes to any of the above, you may be experiencing shame as opposed to guilt.
What to Do About It
If you find yourself trapped in feelings of shame, take a moment to evaluate your thoughts. Can you exercise a bit of forgiveness or compassion toward yourself? What might you say to a friend who happened to be in the same situation? Are there any ways you are willing to be more flexible with your thoughts in order to reshape how you are seeing the situation?
Shame can be a difficult feeling to navigate and may be tied to deeper issues. If you find shameful thoughts and feelings are holding you back from your goals, consider seeking professional help. A qualified therapist can help you work through your feelings so you can reengage life in the way you want.
© Copyright 2016 GoodTherapy.org. All rights reserved. Permission to publish granted by Deanna Richards, LMHC, GoodTherapy.org Topic Expert Contributor
The preceding article was solely written by the author named above. Any views and opinions expressed are not necessarily shared by GoodTherapy.org. Questions or concerns about the preceding article can be directed to the author or posted as a comment below.