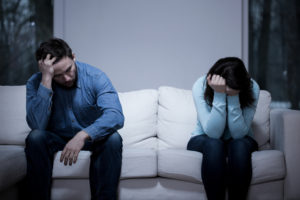 Posttraumatic stress (PTSD) can occur anytime someone is exposed to one or more traumatic events. Examples of trauma include experiencing or witnessing any type of violence, sexual or physical assault, or combat; being involved in an accident or natural disaster; or learning a loved one experienced a traumatic event. The effects of trauma on a person's life can be far-reaching and may negatively impact many areas of functioning. One of the areas that tends to be affected most is relationships.
Trauma can disrupt and skew a person's attitude toward life and others. Someone who may have been optimistic and outgoing prior to a traumatic incident may become pessimistic and withdrawn afterward. The world may feel like a more dangerous place, and the ability to trust in the goodness of others may be compromised.
In some cases, symptoms of PTSD may begin to occur immediately following the traumatic event, but in other cases symptoms may not become apparent until months later. And not everyone who experiences trauma will develop symptoms of PTSD. People with a high level of resiliency and a good support system may be less likely to struggle; however, the type and severity of the trauma experienced, as well as the duration of the ordeal, may factor into whether someone becomes symptomatic.
Watching someone you care about go through the aftermath of trauma can be extremely difficult and challenging. Ways in which trauma can negatively impact relationships include:
Trust issues. Someone who has experienced trauma may feel a sense of betrayal. Their belief in the decency of others may have been shattered and the world around them may seem to have become threatening. This may be especially true if the person experienced physical or sexual abuse at the hands of a family member or other previously trusted party. Learning to trust again after trauma can be a difficult process.
Emotional detachment. Individuals with PTSD often experience a sense of numbness and feeling cut off from their emotions. It may therefore be difficult for loved ones to connect with them and provide support. Family members and friends may struggle to understand what the person is going through and may at times feel rejected. This may lead the person who experienced the trauma to feel even more disconnected.


Underlying anger may stem from feelings of unfairness at the person's world having been turned upside down, as well as the lack of control they experienced during the traumatic event.

Anger issues. One possible symptom of PTSD is an increase in feelings of anger or irritability. Even a person who had a calm temperament prior to experiencing trauma may struggle with angry outbursts and emotional regulation afterward. Underlying anger may stem from feelings of unfairness at the person's world having been turned upside down, as well as the lack of control they experienced during the traumatic event.
Insomnia and nightmares. Another symptom of PTSD is sleep problems. When settling down to rest and without any other distractions, the person may tend to think more about the trauma, which can lead to difficulty falling asleep and/or staying asleep. The person may also frequently have nightmares about the event and thus may fear sleep itself. This can also be difficult for family members or partners to deal with, as they may struggle watching a loved one go through so much distress and may feel helpless to provide any real comfort.
Isolating or avoiding certain places. Many people with PTSD tend to isolate in order to avoid being reminded of the trauma they experienced. Certain people, places, or events may trigger flashbacks of the trauma, which can cause feelings of anxiety or panic. The person may therefore prefer to stay home, where they feel safer and more in control, rather than venturing out. This can be difficult for loved ones who want to continue to lead a balanced, "normal" life.
Hypervigilance. People who experienced trauma tend to fear that something similar could happen in the future. Therefore, they often remain on high alert when it comes to their environment and may be constantly on the lookout for potential threats. This can prevent them from focusing on family or friends who are with them, leading to difficulties maintaining relationships.
The symptoms above can all be serious issues in the lives of people who have been exposed to traumatic events and can contribute to problems interacting with others. If you or a loved one have experienced any of these symptoms following a traumatic event, seeking the help of a therapist can be beneficial in working toward alleviating suffering and improving relationships.
Reference:
American Psychiatric Association. (2013). Diagnostic and Statistical Manual of Mental Disorders, 5th Ed. (DSM-5). Arlington, VA: American Psychiatric Publishing.
© Copyright 2018 GoodTherapy.org. All rights reserved. Permission to publish granted by Wendy Salazar, MFT, therapist in San Diego, California
The preceding article was solely written by the author named above. Any views and opinions expressed are not necessarily shared by GoodTherapy.org. Questions or concerns about the preceding article can be directed to the author or posted as a comment below.