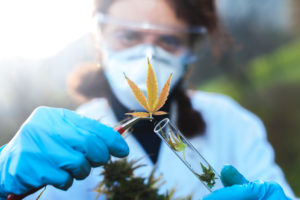 Marijuana may increase the association between depression, anxiety, and chronic pain in people with an opioid addiction, according to a study published in Addictive Behaviors. The study found that this change is largely due to shifts in self-efficacy associated with marijuana use.
Some people use marijuana because they believe it will help with chronic pain or depression. A 2015 study found cannabis could improve quality of life and decrease physical symptoms for people with chronic pain.
Opioid addiction and chronic pain are also closely linked. Recent research has found about two-thirds of people with an opioid addiction have chronic pain as well. Research published in 2016 found lower rates of prescription drug abuse in states with medical marijuana laws, possibly because some people may choose cannabis instead of prescription opioids.
The Link Between Cannabis, Addiction, and Chronic Pain
The study followed 150 adults at one of two opioid addiction treatment clinics. They sought to assess the link between drug use, chronic pain, and mental health. Researchers surveyed participants about depression, anxiety, pain, self-efficacy, and use of marijuana.
About 67% of study participants had used cannabis at least once during the previous month. Though only a fraction of participants had a prescription for medical marijuana, many reported using cannabis to cope with pain. Marijuana strengthened the relationship between depression, anxiety, and pain. As marijuana use increased, so did the connection between pain and emotional distress. Rather than helping participants with their symptoms, cannabis appeared to make their conditions more difficult to manage.
Self-Efficacy and Pain
The study also measured participants' self-efficacy, specifically how confident they felt about being able to manage their symptoms. Investigators found that marijuana users seem to have lower levels of self-efficacy. It is uncertain whether this is a result of marijuana, or if people with low self-efficacy are more likely to use marijuana.
When researchers controlled for self-efficacy, cannabis affected the link between depression, anxiety, and pain much less. This suggests self-efficacy may be a factor in both addiction and pain. The study's authors suggest providers should be mindful of the link between marijuana use and self-efficacy. More research is needed on the role self-efficacy plays in chronic pain and addiction.
References:
Marijuana use may not aid patients in opioid addiction treatment. (2017, December 4). Science Daily. Retrieved from https://www.sciencedaily.com/releases/2017/12/171204091144.htm
Wilson, M., Gogulski, H. Y., Cuttler, C., Bigand, T. L., Oluwoye, O., Barbosa-Leiker, C., & Roberts, M. A. (2017, October 18). Cannabis use moderates the relationship between pain and negative affect in adults with opioid use disorder. Addictive Behaviors, 77, 225-231. doi:10.1016/j.addbeh.2017.10.012

The preceding article was solely written by the author named above. Any views and opinions expressed are not necessarily shared by GoodTherapy.org. Questions or concerns about the preceding article can be directed to the author or posted as a comment below.