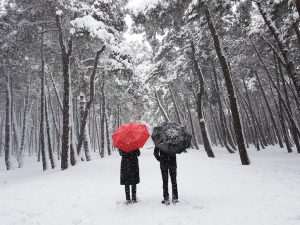 Ending a relationship is quite possibly one of the most tumultuous decisions a person can make. People who enter into a marriage generally do so with the expectation of reaching the idealized goal of "death do us part." Unfortunately, this goal is not realized by nearly half of married couples, according to divorce statistics. It may be challenging to admit to yourself that maybe you didn't marry your soulmate, that your love will not last forever, and you may not live happily ever after. For some, endings can be downright frightening and painful.
People can be especially hard on themselves when a relationship begins to unravel and they take on the responsibility for dissolving the marriage. Deciding to leave a relationship can bring up many negative feelings, worries, and doubts. A person who leaves may worry about feeling overwhelmed, out of control, and scared they won't recover from this traumatic event in their life. Some people blame themselves and think of divorce as a personal failure.
Ideally, marriage should enhance and support your life in a mostly positive way. Every marriage has some growing pains, but they don't necessarily have to undermine the well-being of the relationship. At the same time, there are some indicators your marriage is not working and may be coming to an end, especially if you don't get counseling soon. You may have been avoiding the signs, sticking your head in the proverbial sand and hiding from the painful truth.
Here are some common factors that may be seen in couples headed for divorce:
1. Unproductive Conflict
A difference of opinion and perspective are part of every healthy relationship, but when arguments are frequent, repetitive, and nonproductive, you may be headed toward a serious decline. A relationship becomes toxic when criticism, defensiveness, contempt, and withdrawal become the norm. Unproductive conflict may result in feelings of estrangement and hopelessness. There is often a sense of a "winner" and a "loser" in those types of battles, and no true insight or lasting change appears to occur as a result of the disagreement. You appear to talk in circles, with nothing ever getting resolved.
2. Loss of Love and Affection
A lack of affectionate touching, kissing, and physical intimacy can speak volumes about the durability of a relationship. A loss of love and affection may contribute greatly to the ending of a marriage unless both parties are in agreement and satisfied. Couples often complain they live like roommates and not like romantic partners. There may be a huge difference in the type of commitment each person is willing to make with regard to how they show love and affection.
3. Boredom
Boredom may occur when you are feeling depressed, disconnected, or not in love anymore. You may notice you feel unloved, undernourished, and your partner is not a source of comfort or the person you most want to talk to when a problem arises.
4. Emotional Disconnection
Emotional distance may occur when there is a breakdown in any type of communication and you notice a lack of depth or meaning to your conversations. You may stop sharing important events and emotional details of your day. There is a certain amount of disinterest in what the other person is doing. You may develop different interests and lead parallel lives that rarely intersect.
Marriage counseling works best when you are relatively happy and need minor adjustments to get your marriage where you want it to be.
Couples typically try to work out problems on their own and wait, on average, about six years before they agree to see a marriage counselor. By the time highly conflict-stricken couples are ready to seek therapy, their marriage is often in shambles and the prospects of repair dim. Marriage counseling works best when you are relatively happy and need minor adjustments to get your marriage where you want it to be.
If the warning signs above are prevalent in your marriage, seeking guidance through counseling can help determine the viability of your relationship. It often depends on whether you are both willing to commit to the process, take responsibility for your respective contributions to the problems, and do the work necessary to rebuild your relationship.
Many times, marriages end for good and understandable reasons. The ending of a relationship may provide the opportunity for self-reflection, learning from mistakes, and starting the next chapter of your life. Working with a therapist in the aftermath of marriage dissolution can help provide support and guidance as you put the pieces of your life back together.
References:
Kingma, D. R. (2000). Coming Apart: Why Relationships End and How to Live Through the Ending of Yours. York Beach, ME: Conari Press.
Gottman, J. (1994). Why Marriages Succeed or Fail. New York, NY. Fireside.
© Copyright 2017 GoodTherapy.org. All rights reserved. Permission to publish granted by Ellen Schrier, MS, LPC, NCC, GoodTherapy.org Topic Expert
The preceding article was solely written by the author named above. Any views and opinions expressed are not necessarily shared by GoodTherapy.org. Questions or concerns about the preceding article can be directed to the author or posted as a comment below.