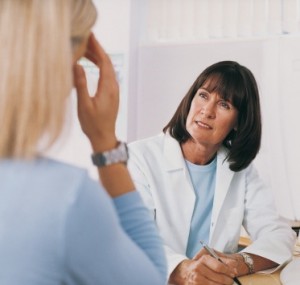 In an ideal world, the doctor should take the lead, ask questions, and be there to address any concerns you have about your body. The reality is that many doctors are just as uncomfortable talking about sexual concerns as the people they treat. What's more, a leading study on sexuality education in medical schools shows that only 42.6% of medical schools in the United States and Canada train medical students in sexual dysfunction. A lack of training in human sexuality could lead many physicians to feel insecure about their competence in treating sexual issues.
It's important to be proactive in your health care no matter how skilled, warm, and compassionate your doctor may be. A little skillful strategy on your part can minimize any awkwardness. Here are some tips for speaking with your doctor about your sexual concerns:
Advocate for yourself. Your time with the doctor is limited and you're paying good money for it, so make the most of it. Recognize that your sexual health is important and make a plan to speak up. If you do not speak up for yourself, who will?
Come prepared with questions printed or written on a piece of paper. This will help you in the moment to be concise, precise, and confident. How many times have you walked out of an exam room and remembered one more, quick question for the doctor? When people are put on the spot or are nervous, they may forget what they wanted to talk about. Having talking points and questions written down will help you stay focused and organized.
Before seeing the doctor, tell the nurse that you have some sexual health concerns that you hope to address. The nurse can prepare the doctor to think about and discuss your specific concerns. The doctor may even prompt you by asking about them. This will make it easier to open up.
Tell the doctor that you brought some concerns with you. Ask the doctor if he or she would like to address them now or later/after your exam. Most doctors welcome an organized and well-informed patient. By asking the doctor what he or she prefers, you are helping him/her to feel as comfortable as possible and signal that you will not wait until the end to discuss something important. When big issues are delayed, doctors sometimes feel pressed for time and may be inclined to rush things.
Ask for a second opinion. If you do not feel satisfied with the doctor's assessment, do not feel heard, or do not feel that he or she addressed your issues sufficiently, ask for a referral for a second opinion. Most doctors welcome another physician's input.
Find another expert. If you feel uncomfortable with your physician, consider switching doctors. If you contact a local sex therapist, he or she should be able to recommend physicians in your area who are particularly skilled and trained in sexual health.
Your sexual health is important, and the sad truth is that many people's sexual issues are left untreated because they are too embarrassed to speak up. You deserve to get the help you need to lead a happier and more satisfying life.
Reference:
Solursh, D.S., Ernst, J.B., Lewis, R.W., Prisant, L.M., Mills, T.M., Solursh, L.P., Jarvis, R.G., and Salazar, W.H. (2003). The Human Sexuality Education of Physicians in North American Medical Schools. International Journal of Impotency Research, 15 (Suppl 5). Pp: S41-S45.
© Copyright 2014 GoodTherapy.org. All rights reserved. Permission to publish granted by Mieke Rivka Sidorsky, LCSW-C
The preceding article was solely written by the author named above. Any views and opinions expressed are not necessarily shared by GoodTherapy.org. Questions or concerns about the preceding article can be directed to the author or posted as a comment below.