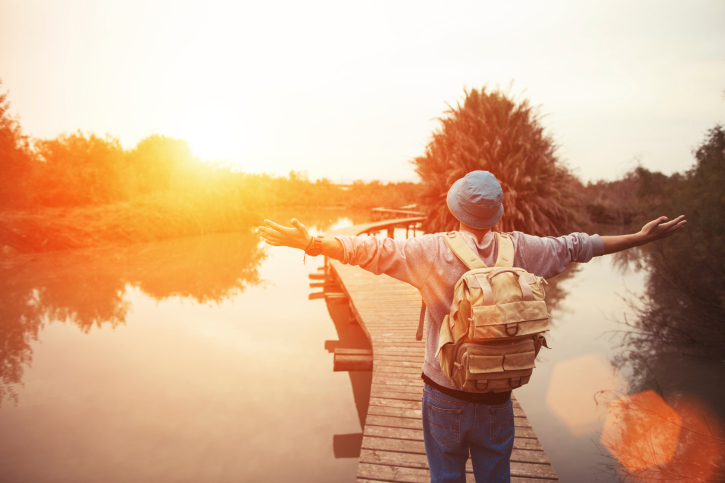 Many of us have decided to change something about ourselves or our lives at some point. We realize we are not satisfied with our weight, our habits, our job, or our relationships and something has to change. Sometimes we know what that "something" is and other times we don't, but we do know how uncomfortable the status quo has become once the desire for change sets in.
For some, this urge hits as we head into January in the form of New Year's resolutions, which are typically designed to exchange bad habits for better ones or to create new, desirable ones. Most resolutions quickly go by the wayside, though.
Whether we stick to our resolutions has more to do with the brain's wiring than it does with willpower, and that is both good news and bad news.
The good news is we can change our minds and lives, at any age or stage. The bad news is it takes time for new habits to get hardwired into the brain, and until they do, there is a tremendous pull backward toward the old pattern. Unless we understand what is going on and what we can do about it, it can feel like we are doomed to fail at change.
The human brain thrives on efficiency. The more it can put on "autopilot," the better. Nearly all of our habitual behavior, from what we do when we wake up to how we spend our leisure time, is on autopilot. Most of our behaviors are the same from one day to the next, day after day, year after year. When it comes to our lifestyle and habits, the conscious mind is rarely involved after a behavior has become habitual. After a while, it can feel as if change is no longer possible, and we may tell ourselves "that's just how I am."
In order to create and sustain change, we need to make our behavior conscious and deliberate again, and we need to sustain the new behavior long enough for the brain to rewire. Once a behavior has been etched into the brain's wiring, in what is called a neural pathway, we are no longer choosing our behavior; it just seems to happen automatically. This process takes about six weeks, sometimes longer. If we give up on our New Year's resolutions within a couple of weeks, we haven't practiced long enough for the brain's efficiency system to help us out. If we stick with the new behavior for a minimum of six weeks, eventually the new behavior will become the one on our brain's default setting.
Here are five tips for making it easier to succeed with your New Year's resolutions:
Start small. Don't try to overhaul your entire life at once. Choose one habit or behavior you want to change and set a realistic and achievable goal.
Monitor your progress. Keep track of your efforts and your results. Even though you are tempted to leave the days when you didn't practice your new behavior off of the chart, include them anyway. Perfectionism is the enemy of genuine, lasting change, so just expect there will be setbacks. It's all part of the process.
Reward yourself for consistency. If you are trying to exercise four times a week, give yourself a reward for each week you do so. Once you reach the six-week mark, when new neural pathways start to form, it should become a bit easier to sustain your efforts.
Affirm your desire to change out loud. Remind yourself of your new behavioral goal verbally and tell yourself you are successful at maintaining it. Simply stating to yourself each day or writing in your journal "I am a healthy person," "I am at my goal weight," or "I enjoy my daily exercise routine" can help solidify the new neural pathways that support your new habit.
Practice self-compassion and a sense of humor. Change is difficult, and we only make it harder on ourselves when we treat ourselves harshly. In order to not only reach our goals but also create genuine, lasting change, we need to be able to accept that growth is not always linear. It often includes plateaus and setbacks along the way.
If you just aren't making any headway, and have been working at habit change for at least six weeks, it may be time to get some guidance and feedback from a qualified therapist or life coach who can help you determine what might be standing in your way.
References:
Duhigg, C. (2014). The Power of Habit: Why We Do What We Do in Life and Business. New York, NY. Random House.
McKay, M., & Harp, D. (2005). Neural Path Therapy: How to Change Your Brain's Response to Anger, Fear, Pain and Desire. Oakland, California. New Harbinger Publications.
© Copyright 2016 GoodTherapy.org. All rights reserved.
The preceding article was solely written by the author named above. Any views and opinions expressed are not necessarily shared by GoodTherapy.org. Questions or concerns about the preceding article can be directed to the author or posted as a comment below.