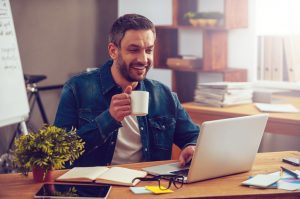 The new year is just around the corner, bringing with it an opportunity for new beginnings. As the calendar gets reset, our vows to better ourselves or achieve meaningful personal goals get renewed. The days leading up to the new year often bring about some degree of self-reflection on what we would like to change about ourselves.
Consider the following resolutions:
This year, I want to take better care of my health.
This year, I want to do some good.
This year, I want to stop wasting time.
While these resolutions may be worthwhile, they may be hard to attain as stated. In order to have the greatest possibility of success in following through with these goals, consider how you are setting or structuring your goals. Specifically, ask yourself the following questions:
Are your goals specific?
While "take better care of my health" may sound fantastic, what is it, specifically, you want to accomplish? Do you want to make specific dietary changes? Exercise more? Get more sleep? If you can more clearly define and quantify your goal, you can provide more focus for your intentions.
For example, if what you really mean by "take better care of my health" is reducing your sugar intake, practicing yoga twice a week, and/or shifting your bedtime to slightly earlier, define your goals as such. By getting more specific, you are more likely to remain focused on the goal and not be overwhelmed by the overarching idea that you haven't defined.
Are your goals realistic?
Logically, it follows that goals that are attainable are more likely to be attained. Yet many of the changes we fantasize about making are more idealistic than realistic. Our fantasies may not factor in real limitations or other considerations.
When you think about your goals, what words do you use? The language of our self-talk can facilitate or even sabotage our efforts.
For example, is it realistic for you to lose 20 pounds in three months? For some individuals, this may be a realistic goal, but for so many others, this goal is neither realistic nor healthy. Bottom line: If this is your stated goal, you are not setting yourself up for success.
One challenge in goal-setting is identifying what is realistic and then working within those parameters. Perhaps you have gained 10 pounds over the past year that you would like to take off. You may resolve to attain your previous weight in six months. While this may be a realistic goal, consider whether other factors may make it less so. For example, if are you taking a medication that has a side effect of weight gain, perhaps the timing of the goal may not be realistic.
How do you phrase your goals?
When you think about your goals, what words do you use? The language of our self-talk can facilitate or even sabotage our efforts.
For example, how likely would you be to meet your goal if you said to yourself, "I should write that article I've been meaning to write," or, "Why can't I just sit down and write that article already?" compared to "I will have a draft of the article completed within the next two weeks, and I will carve out two hours of time on my day off tomorrow to work on this"? Using action-oriented language in setting your goals facilitates action. Try it and see what happens.
When does your "new year, new you" begin?
A new calendar year offers a fresh start, of course, but resolutions can begin whenever it is meaningful to YOU to begin. Decide on a timeline that makes sense for your schedule.
If your goal is to volunteer each week for a cause that is meaningful to you, yet are traveling the first two weeks of the year and then have a huge work deadline, this should factor into your "start" date. Or it could be that on July 13 you decide you are ready to finally quit smoking. Make July 13 your "new year."
How do you stay on track toward achieving your goals?
You've now set meaningful, realistic, clearly defined, and well-planned resolutions. Now what? The hardest part is often staying on track. Here are some general tips on achieving the goals you set for yourself:
Acknowledge and reflect on your achievements: Have you successfully gone to bed 30 minutes earlier for four nights in a row? Have you decreased your time spent gaming this week? Recognize your early achievements. How does it feel to have accomplished this? Do you notice the difference in the additional sleep? Are you more able to focus on other responsibilities since you are spending less time gaming? If the changes you are noticing are positive, allow this to be positively reinforcing. Be a cheerleader for yourself and tell yourself to keep up the good work!
Make yourself accountable for your behaviors: If you feel comfortable doing so, let others know you have set goals for yourself. They can provide support and encouragement to you, but beyond that, telling others about your intentions may make you feel accountable to others to stick to your resolutions. If weight loss is a goal, consider the benefit many find from joining a weight loss group. You can apply the same principles to accountability to yourself, if this would better suit your needs. You can establish a regular time to check in with yourself to see how you are meeting your goals.
Utilize external support: Whether it be apps that track a behavior you'd like to change, a support group, or individual therapy, there are many ways in which you don't have to go it alone, and you can get the reinforcement you find to be helpful in keeping you on track.
Taken together, these strategies for goal-setting may help you achieve your resolutions. In the year ahead, consider how a little extra thought and planning can lead to greater success. If you want or need support along the way, contact a licensed therapist.

The preceding article was solely written by the author named above. Any views and opinions expressed are not necessarily shared by GoodTherapy.org. Questions or concerns about the preceding article can be directed to the author or posted as a comment below.