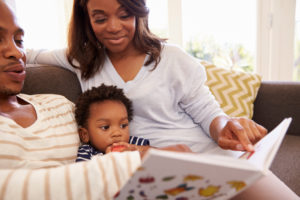 Most parents know that reading to babies and children is important. According to a study published in Child Development, the books they choose may be just as critical. In the study, babies whose parents read books with clearly labeled objects displayed higher levels of brain activity.
Are Some Books Better than Others?
Researchers followed 59 infants ages 6-9 months. In a laboratory setting, parents read a story including characters the babies had never seen before. Researchers used an electroencephalography (EEG) machine to establish the babies' baseline brain responses to the new story. They also tracked the babies' gazes—a well-established strategy for assessing infants' interest and attention.
Next, researchers divided the babies into three groups. Each group received different books to read at home. The first group of parents was assigned storybooks that included individually-named characters ("Louis", "Anise", etc.). The characters' names were printed near their images. A second group read the same stories, but the books labeled characters by their fake species ("wadgen" or "hitchel"). A third group of parents continued their usual reading routine.
Three months later, researchers brought the babies back to the lab to reassess their response to stories. Babies from the first group were more attentive when their parents read. Their brain activity showed they could distinguish between individual characters. The other two groups displayed no such changes.
The studies' authors suggest babies may benefit from picture books featuring clear images with individual labels. Such books may encourage parents to speak more to their babies, fostering communication and piquing babies' interest in reading.
Parent-Child Reading and Emergent Literacy
Previous research has found numerous benefits associated with reading to children, even when they are too young to understand a story. Parent-child reading time has been linked to emergent literacy in children. Emergent literacy involves skills like recognizing letters or knowing what order to look at the words. These abilities are necessary to learn reading later on.
The U.S. Department of Education published a report on the demographics of families that read to their preschool-age children. The report shows the higher a mother's education, the more likely she will read to her child. A family's income level also had an effect, as parents below the poverty line were less likely to read to their children. Families living in northeastern states had the highest rates of parent-child reading.
References:
Family reading to young children. (2017). Retrieved from https://www.childstats.gov/americaschildren/edu1.asp
For baby's brain to benefit, read the right books at the right time. (2017, December 9). The Conversation. Retrieved from https://theconversation.com/for-babys-brain-to-benefit-read-the-right-books-at-the-right-time-83076
Pickron, C. B., Iyer, A., Fava, E., & Scott, L. S. (2017, December 8). Learning to individuate: The specificity of labels differentially impacts infant visual attention. Child Development. doi:10.1111/cdev.13004
Zuckerman, B., Augustyn, M. & Duursma, E. (2008, June 23). Reading aloud to children: The Evidence. Archives of Disease in Childhood, 93(7), 554-557. Retrieved from http://www.reachoutandread.org/FileRepository/ReadingAloudtoChildren_ADC_July2008.pdf

The preceding article was solely written by the author named above. Any views and opinions expressed are not necessarily shared by GoodTherapy.org. Questions or concerns about the preceding article can be directed to the author or posted as a comment below.