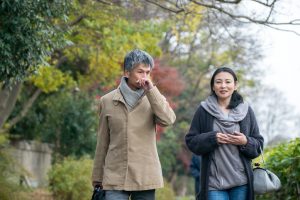 You've no doubt heard the saying, "Sticks and stones can break my bones, but words can never hurt me." But the idea we can or even should be invulnerable to the power of language, and to the things others say to us, is highly unrealistic. This is particularly true for intimate relationships.
Even well-spoken, kind individuals who have no problem chatting pleasantly at holiday parties, running charity events, or engaging colleagues in the boardroom can easily lose their fluency, sensitivity, and charm when it comes to communicating with those closest to them. Hot-button topics such as sex, money, in-laws, parenting styles, and political views can easily become conversational danger zones, where words are used to defend and protect.
Worse than simple miscommunication, the unconscious, reflexive ways we express ourselves in our closest relationships can foreclose the possibility of a productive exchange. It's no wonder couples have a hard time separating the wheat from the chaff of what is meant from what is said in some of their most significant discussions.
In the 1960s, psychologist Marshall Rosenberg noticed an overriding societal tendency to use language as a means of domination and control rather than as a way to connect to others with shared human needs. This tendency to lead with judgment rather than curiosity gets in the way of our ability to empathize and collaboratively problem-solve.
Unfortunately, as children many of us were taught to suppress, deny, or minimize our feelings and needs. As adults, our lack of self-empathy often correlates to challenges with partners. If we're unable to respectfully tune into our innermost truths, how can we be open to another?
Take a look at your own experience. How often did authorities in your life—parents, teachers, political figures, bosses—admit to the relative nature of their assumptions about "the right way to do things"? How often do you consider the possibility friends, partners, and even your own children have a right to do things their way, or at least to have their way understood and considered?
Authoritarian, self-serving power dynamics virtually always begin to play out in our relationships unless we question our assumptions and open up to our own and others' underlying humanity. In the imago therapy model, far from heralding the end a relationship, power struggles are viewed as the point of departure into deeper self-awareness and more authentic relating, an opportunity to turn around and look at ourselves.
Unfortunately, as children many of us were taught to suppress, deny, or minimize our feelings and needs. As adults, our lack of self-empathy often correlates to challenges with partners. If we're unable to respectfully tune into our innermost truths, how can we be open to another?
Learning to communicate respectfully is invariably a humbling process because it entails giving up the false sense of control authoritarian language can so often afford us. It means giving up our advantages over others, our skills as analysts, lecturers, and fortune-tellers, and stepping into a shakier zone of feelings, needs, and vulnerabilities. It means asking for things even though we may not get what we want and making it safe for our partner to show up with their truth, even when they've hurt or disappointed us. It means resisting the impulse to view our partners through a lens of judgment—as bad, mean, or wrong—because they haven't accommodated us in some way.
Nobody has to be rewarded or punished for the outcome of a truly honest discussion. Stepping forward with courage and admitting our interdependence and vulnerability is itself a victory.
Here are a few useful techniques for improving communication:
1. Before you talk to your partner about a difficult topic, try voicing these statements from David Richo's book How to Be an Adult in Relationships (either out loud or to yourself):
This page contains at least one affiliate link for the Amazon Services LLC Associates Program, which means GoodTherapy.org receives financial compensation if you make a purchase using an Amazon link.
"I'm paying close attention to you now."
"I accept you as you are in this moment."
"I allow you to be yourself."
"I appreciate you for what you have been and are."
"I have real affection for you, no matter what."
2. Use this simple formula for expressing your feelings about a partner's behavior and making a request for them to change:
"I feel __________ when you __________ (specific behavior). Long before I met you, my past experiences made me vulnerable to this behavior in the following way: __________. What I would like for you to do instead is __________. This will help me to feel more __________."
3. Use active listening. Pay attention and reflect back, paraphrased, what you heard your partner say. For example:
"I hear you saying you feel angry when I come home late without texting you. Long before you met me, your past experiences made you vulnerable to this behavior when you never knew what time your father would pick you up from school. What you want me to do instead is to call or text you in advance and let you know I'm going to be delayed. This will help you to feel safe, happy and calm. Is that it?"
4. Keep a list of the things you love about your partner and your relationship in your purse or wallet. Read through your list often and especially before approaching your partner to talk about a difficult topic.
If you want support in learning to communicate more effectively with someone you care about, contact a licensed therapist.
Reference:
Richo, D. (2002). How to be an adult in relationships: The five keys to mindful loving. Boston, MA: Shambala Publications.
© Copyright 2017 GoodTherapy.org. All rights reserved. Permission to publish granted by Alicia Muñoz, LPC, GoodTherapy.org Topic Expert
The preceding article was solely written by the author named above. Any views and opinions expressed are not necessarily shared by GoodTherapy.org. Questions or concerns about the preceding article can be directed to the author or posted as a comment below.