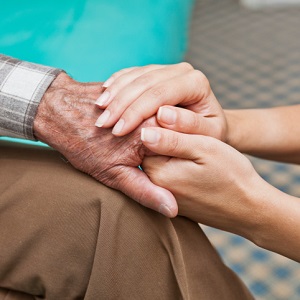 It's never easy to watch someone you love suffer. For people experiencing grief, help is often hard to find. Some people avoid grieving loved ones because they don't know what to say or do. You don't have to be an expert on grief to help, though. Simply reaching out is often all it takes to help a loved one weather the storm of mourning.
Acknowledge the Grief
You might worry that bringing up the source of the grief will only make your loved one sadder. But for a grieving person, the source of the grief is omnipresent, and if you ignore his or her grief, it can seem like you don't care. Don't force your friend to talk about it, but do ask how he or she is doing. When your loved one is ready to talk, be prepared to provide a supportive, nonjudgmental ear.
Provide an Outlet or Distraction
If you're not sure of what to say, plan an outing instead. Grieving people can feel isolated and alone, and often don't have enough energy to plan outings on their own. This, of course, leads to further isolation, which can make the grief worse. Steer clear of outings that require a lot of energy, such as fancy dinners. Instead, try something easy like a coffee date or walk around the block. If your loved one can't muster the energy to go out, go to him or her instead with a movie, a takeout dinner, or a comforting mug of tea.
Encourage Seeking Help
Feeling devastated in the face of a loss is normal. Abandoning all responsibilities, experiencing thoughts of suicide, or grief that is severe and lasts for months, though, can signal an underlying mental health concern. If you're concerned about the way a loved one is coping with his or her grief, encourage them to talk to a therapist or call a hotline. If your loved one gives you permission, you might even make the appointment for them or go with them to the first meeting.
Don't Push Your Own Opinions
Everyone grieves differently, and trying to argue someone out of grief is a losing proposition. Never minimize the loss or tell your loved one that she or he should be over it by now. There's no "right" way to grieve, and it's easy to judge grief from the outside. But when someone they love judges them, it typically only makes a grieving person's pain worse. It also means your loved one is unlikely to call you if she or he needs help.
Help Your Loved One Make Good Choices
Some people experiencing grief turn to drugs, alcohol, excessive dieting, or dangerous risk-taking to numb their feelings. Help your loved one make good choices by encouraging healthy eating and a regular schedule. If you're concerned about a grieving person's lifestyle, tell them so, and be prepared to offer help in achieving a better life. You might, for example, bring your loved one a healthy meal, tell him or her to call you when a craving for drugs or alcohol strikes, or encourage him or her to attend a 12-step meeting or support group.
Grief can be challenging, and the pain of a loss can linger for a long time. With sensitive care and a supportive environment, though, your loved one can get back to normal, even if the grief seems impossible to bear right now.
References:
Helping others cope with grief [PDF]. (2001). Sheldon: LifeCare, Inc.
McMullen, L. (2013, August 7). 7 ways to help a loved one grieve. Retrieved from http://health.usnews.com/health-news/health-wellness/articles/2013/08/07/7-ways-to-help-a-loved-one-grieve
© Copyright 2014 GoodTherapy.org. All rights reserved.
The preceding article was solely written by the author named above. Any views and opinions expressed are not necessarily shared by GoodTherapy.org. Questions or concerns about the preceding article can be directed to the author or posted as a comment below.