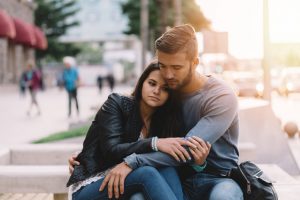 Living with a partner who is experiencing depression can be challenging, particularly because depression may cause people to withdraw from their relationships or lose interest in sex. Attempts at helping may fail, or even make things worse, initiating a cycle of worsening symptoms and relationship decline.
New research published in the journal Developmental Psychology provides insight into how people can help significant others who have symptoms of depression. The study suggests increasing support benefits both the person with depression and that person's partner.
The study surveyed more than 1,400 couples on self-esteem, depression, and levels of support. Men experienced increases in self-esteem from supporting their partners with depression. Women whose partners supported them also experienced self-esteem boosts and were less likely to experience future depression. High self-esteem in women and fewer depression symptoms in men correlated with receiving more support from their partners. This suggests the people with lower self-esteem and more depression symptoms may be less likely to receive the support they need.
The adolescent years can be a difficult time for many people, bringing hormonal changes that can cause increased stress. To cope, many teens may return to the movies, books, and shows they loved in childhood. For some, this strategy offers stress relief through a reminder of an easier stage of life.
All students at Buckingham University in the United Kingdom will be trained in positive psychology in an attempt to reduce bullying and negative emotions. Not everyone agrees with this approach, with some suggesting positive psychology forces people to ignore negative emotions and experiences. They argue it puts too much pressure on the individual, ignoring the role that society and other external factors play.
Higher education students are seeking more mental health services, as colleges struggle to keep up. Psychiatrists are often part-time employees, and college counseling centers may not be adequately staffed to meet student needs. In some cases, students are left waiting weeks for much-needed mental health care.
More than 34 million Americans care for terminally ill loved ones. Many do not receive the support they need. According to a new study, a quarter of caregivers experience moderate or severe depression, and a third have moderate to severe anxiety. Researchers suggest providers should view terminal illness as a family condition, and they should offer mental health screening and treatment to potentially struggling caregivers.
Users of synthetic cannabinoids known as "Spice" and "K2" may mistakenly believe these products are a safer alternative to marijuana. A new systematic review details several harmful side effects linked to the use of these products, including seizures, convulsions, and strokes. The study's authors caution that synthetic forms of marijuana more aggressively stimulate brain receptors for tetrahydrocannabinol (THC). THC is the primary active ingredient in marijuana.

The preceding article was solely written by the author named above. Any views and opinions expressed are not necessarily shared by GoodTherapy.org. Questions or concerns about the preceding article can be directed to the author or posted as a comment below.