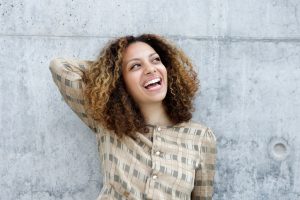 Now that you're seeing a therapist, how do you get the most out of the time and money you are investing? The simple answer is to show up, challenge yourself, and work with your therapist to achieve your goals. But that isn't quite as easy as it sounds. There are ways in which people who seek psychotherapy either help or hinder their growth.
Therapy is a co-created relationship, led by the person in therapy, for the purpose of helping that person achieve their goals. As such, the therapist may act as a guide or expert at times, but the initiative for seeking help and wanting to work on certain aspects of growth must come organically from the person in therapy.
Here are five reminders for people in therapy to further the process:
1. Be Authentic
While it's helpful to know what you want to discuss in a session and to do any homework assigned by your therapist in previous sessions, it is not helpful to the therapeutic process to script what you are going to say to your therapist. Your therapist is not expecting you to be funny, witty, or entertaining. Therapy is a relationship built on authenticity in the moment, and scripting a story beforehand is no different than penning a diary or blog. While these methods can be helpful in their own right, it is not particularly helpful in therapy, as prewritten interactions negate the growth and healing that can occur as a result of a spontaneous and genuine therapeutic relationship.
2. Teach Your Therapist About You
Identity is important because it gives us a sense of belonging to a group or exclusion from a group as well as the privileges and trials that go along with that identity. Therapists are highly trained and knowledgeable experts in helping and healing. This doesn't mean your therapist knows everything about every identity out there or which identities you find relevant for yourself. While some identities are easily visible to the eye, others may be hidden. And you may or may not identify strongly with all identities that apply to you.
People go to therapy for help, but that doesn't mean they need to be fixed.
Additionally, you and your therapist may be of different races, sexes, genders, ethnicities, sexual orientations, socioeconomic classes, disability statuses, or other identities, and your therapist may need to be informed and educated on what your identities mean to you. Even if you and your therapist share some common identities, the ways in which they manifest or are interpreted can be unique, and discussing similarities and differences can help clarify assumptions that may have been made by either party.
3. Remember: You Are Okay as You Are
People go to therapy for help, but that doesn't mean they need to be fixed. There is a distinction. You are inherently okay as you are, and you are seeking to grow and change. But you don't have to worry about your therapist judging your thoughts, emotions, actions, or past, and you don't have to hide the less acceptable or seemingly more shameful aspects of yourself in order to have your therapist like you. This isn't helpful to the therapeutic process, as this prevents the honesty necessary to grow within therapy.
4. Discuss Your Beliefs
Whether you follow a religion, consider yourself an atheist, or have your own set of spiritual views, don't be afraid to discuss your beliefs in therapy (even if you don't have any or are unsure what they may be). These deeply personal principles inform a sense of meaning, purpose, or identity and can be important to your therapeutic journey.
Further, many people feel hurt or betrayed by religion, God, or religious institutions. If this is the case, it may be tempting to avoid such topics altogether, viewing them as irrelevant, which they may be. But this may also be an opportunity to find growth or healing in an unexpected, but possibly important, dimension of life.
5. Disagree? Speak Up
If something about your therapy doesn't feel right to you, discuss it with your therapist. Don't be afraid to discuss perceived misunderstandings or to express concerns about the direction of your sessions. It's normal to occasionally feel angry, hurt, or frustrated with your therapist or your progress in therapy, and such thoughts and feelings should be discussed with your therapist.
In turn, your therapist should be open to having such conversations without judgment or defensiveness. These discussions can lead to tremendous growth in the therapeutic relationship and clarity about the goals of therapy. As the person in therapy, this is your journey. It is your right to speak up, be understood, and be responded to appropriately.
While not easy, the most effective therapy happens when you are able to fully be yourself and your therapist sees, respects, and values your authenticity. I encourage you to notice when you are holding yourself back in therapy, and to be curious about what may be occurring when you do.
© Copyright 2016 GoodTherapy.org. All rights reserved. Permission to publish granted by Tai Pimputkar, MSW, LCSW, GoodTherapy.org Topic Expert Contributor
The preceding article was solely written by the author named above. Any views and opinions expressed are not necessarily shared by GoodTherapy.org. Questions or concerns about the preceding article can be directed to the author or posted as a comment below.