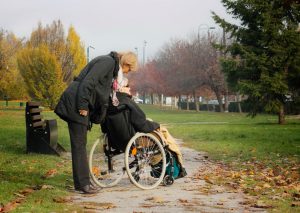 Becoming a caregiver to a loved one means adopting and adapting to new roles and responsibilities and often, to new or heightened emotions. Caregiving may mean significant changes in your lifestyle, employment, finances, schedule, and/or availability. Things may suddenly (or gradually) feel out of balance and overwhelming, and it often takes a lot of work to hold everything together.
The Emotional Impact of Caregiving
Caregiving can take a toll emotionally. Many of the feelings associated with being a caregiver, including guilt, helplessness, resentment, or feeling overly burdened, can leave the caregiver feeling overwhelmed. Sometimes it is not actually the responsibilities of providing care or support that are so overwhelming but the feeling of uncertainty about the future that may just seem too much.
Within the context of providing care, relationships may change. These are often positive changes. Caregiving can facilitate increased closeness, sharing, bonding, and other benefits that come from feeling needed, appreciated, or loved. On the flip side, often resentment can build if the burden of providing care is not distributed evenly among all who could be potential caregivers or if the caregiver feels underappreciated. Alternately, whatever patterns were in the relationship before can become amplified, building on issues that already existed. Sometimes the strain of relationship dynamics can itself be a significant stressor.
The Importance of Caregiver Self-Care
As a caregiver, it may sometimes be hard to recognize you have reached your max until you have actually reached it. Chances are if your resources have been channeled outward into caregiving, you have limited resources for dealing with the stressors you are experiencing. It may feel like a priority to be focused on your own needs when you are providing support for someone else. You may not even be aware of the effect these changes and demands have on your well-being. At whatever point you realize you are feeling overwhelmed (or are approaching overwhelm), it is time to look for support. Alternately, if a loved one observes this in you and shares the observation, it may be wise to be open to receiving this feedback.
Giving yourself permission for self-care is key. Taking time for yourself, engaging in hobbies, exercise, rest, or nurturing your relationships will help strengthen your ability to be a better caregiver both to others as well as to yourself.
Fortunately, there are many available and accessible support resources for caregivers. Individual therapy can be highly beneficial. Taking time for yourself in individual therapy is not self-indulgent; it may provide the space and opportunity for reflection that is otherwise absent. Whether therapy happens in a traditional face-to-face setting or online, one-on-one or in a group setting, it can be beneficial.
Many people find a caregiver support group to be critical to their quality of life while caregiving. The support you can receive from (and provide to) others who are going through similar challenges often cannot be matched by anything else. The feeling of knowing you are not alone in these challenges and that others have felt similarly is powerful. Caregiving can feel isolating; a caregiver support group can provide a sense of connection.
Locating a support group may take some investigating, but there are many options available. Many hospitals offer caregiver support groups focused on applicable health condition (e.g., cancer, diabetes, or substance abuse) as well as more general offerings. Some therapists in private practice also offer group services for caregivers. Should it be challenging to locate an appropriate group locally, or if the available group meets at a time that would prohibit joining, there are many options for group support online as well. Again, locating resources through an organization focused on the health condition related to the person being cared for is a sensible place to start searching.
Another resource for support and other referrals are other caregivers you meet or that others connect you with. Sometimes caregivers connect while in a medical waiting room and can exchange resources and share experiences informally. Other sources of support may exist in places you didn't think to find them. For example, peer mentors, respite care services, educational workshops, or auxiliary organizations or services addressing a particular topic or stressor, such as financial support, may be able to offer the supplementary support you need to cope with your stress. Many of these resources can be found online or by speaking with professionals involved in the care of your loved one, such as nurses or other health care team members. Any or all of these resources can lead to feeling refreshed and recharged, a clearer perspective, and improved caregiver quality of life.
Finally, it is important to try to maintain whatever balance in your life facilitates your functioning at a healthy level that is reasonable given your demands and stressors. Giving yourself permission for self-care is key. Taking time for yourself, engaging in hobbies, exercising, resting, or nurturing your relationships will help strengthen your ability to be a better caregiver both to others as well as to yourself.
© Copyright 2016 GoodTherapy.org. All rights reserved. Permission to publish granted by Marni Amsellem, PhD, GoodTherapy.org Topic Expert
The preceding article was solely written by the author named above. Any views and opinions expressed are not necessarily shared by GoodTherapy.org. Questions or concerns about the preceding article can be directed to the author or posted as a comment below.