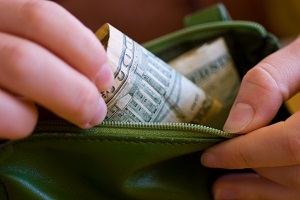 With all of our tax returns due in April, the subject of money—what we make and how we spend it—has been on many of our minds. It's never far away, of course. Managing our resources is one of the most important life skills we will ever have. And with the realities of this last recession—bank failures, job losses, upside down mortgages, and eviscerated pension plans—money and financial issues have been on our minds more than ever.
Since money is the way our society exchanges resources (that nice, new pair of sneakers for this small group of green paper bills, for example), we need money to live. It's right up there with health, good relationships, food, and shelter. We can't get along without it; at least, ours or someone else's who is willing to share.
Since it's such an important facet of our lives, money develops a huge, complex meaning in our daily thoughts and behaviors. How we make money, spend money, save money, share money, waste money, and value money are parts of who we are as families and individuals. Consider how complex meanings are, in your family, around issues of money; and now think about how that same complexity is in other families. Now consider just that one aspect of getting married—each person a product of each differently focused family. No wonder couples who come to family therapy report that money decisions and problems are among the most contentious aspects of their marriage.
If the process of making, keeping, and spending money is such a vital piece of being a family, what do we know about making that issue easier, as a family?
Shared values. Probably at the top of the list of skills that financially stable families report is that the adults in the family have generally talked about, negotiated, planned, and set up a financial process with shared, open values. The meaning and importance of work, child bearing and care, and the meaning of investments, property, education, vacations, entertainment, and saving have been discussed and reached a generally stable agreement.
Negotiated differences. Once the general values are shared, the same couple has figured out their own unique way to manage the differences they encounter. Someone who doesn't ever balance their checkbook can marry someone who checks their bank balance every day, if each can appreciate the other's perspective, and can land on a compromise that looks out for everyone's essential interests.
Information sharing. If a family wants to function with a good degree of flexibility, accountability, and honesty, there is no room for secrecy and the hiding of assets. Happy couples don't have secret bank accounts squirreled away, and if one spouse manages the bill paying, the other has full knowledge, or at least full access to, banking information. This leads to a "no surprises" ethic, essential to lower stress around money issues.
"Single source" spending. Higher-functioning couples think of their money and resources as joint assets. Whatever money comes into the family is shared, and it's pooled into a single source. While some couples may have smaller private accounts for their own personal spending, gift giving, family-of-origin inheritance, or money in trust, the overwhelming majority of their income flows into a single joint set of accounts. Keeping one's own salary in a separate account, and paying certain bills out of it, as your spouse does the same, may seem like thoughtful thing to do; but it doesn't help a couple think of money as shared. It inevitably leads to money used as a weapon during conflicts.
We live in a diverse culture, with wide differences in income and spending patterns. It's impossible not to compare ourselves with others. Happier families work against that tendency and strive to live within their means, focusing not on what's missing, but on gratitude for what they have. With a good deal of planning, lots of discussion and negotiation, as well as unending effort, even this huge life process can be done well, with less anxiety and continuing stability.

The preceding article was solely written by the author named above. Any views and opinions expressed are not necessarily shared by GoodTherapy.org. Questions or concerns about the preceding article can be directed to the author or posted as a comment below.