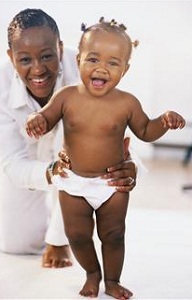 In a world of flashcards, baby sign language, and a host of other tools designed to make babies smarter, it's easy to forget that parents have been parenting children—and turning them into geniuses—long before technology promised to do it for them. Oftentimes the best way to help a child become smarter, more emotionally clued in, and happier doesn't involve a new product or gimmick; the basics of parenting are really all you need. Even more interestingly, your emotions and your child's can both affect her development. So love really does matter, and cognitive science can now conclusively demonstrate that a child's emotional life influences her brain's development.
Pregnancy
Before your baby can walk, talk, or even breathe on her own, her brain is laying down neural connections. During pregnancy, the mother's emotional life strongly affects development. Stress and anxiety are especially problematic because they release large quantities of cortisol, which can pass through the placenta and into the developing fetus. Too much cortisol can inhibit development, resulting in lower birth weight and, in extreme cases, developmental delays. Conversely, women who remain calm and relaxed during pregnancy are more likely to have healthy pregnancies and less likely to give birth to children with developmental issues.
Attachment
Attachment is the process of bonding between a parent and a child. While movies and books tell us that attachment happens immediately, it actually takes several months for a baby to bond strongly to her parents. By 6 months, a child immediately recognizes her parents' faces, and by a year she feels distress when separated from them. Healthy, loving attachments foster strong brain development, and children with close bonds with their parents walk, talk, and read earlier. However, when children endure long separations from their parents—due to divorce, deployment, long-distance jobs, and other factors—they may develop more slowly.
Stress
We all feel stress from time to time, and doctors now know that chronic stress can cause a host of health problems. But babies are especially susceptible to stress, and their underdeveloped limbic system makes it much more difficult for them to manage stress. Infants rely on soothing from their parents to calm themselves, and without it, their body releases a variety of hormones to help them manage stress but that, in high doses, can cause long-term developmental problems. Extended periods of crying, being left alone to cry, separation from an attachment figure, and violence in the home can all cause babies immense stress.
Excitement and Joy
There's nothing better than a happy baby, and a smiling baby doesn't just light up a room. When babies are happy, their brains are working hard. This is why times of low stress are the best times for children to learn. Babies learn best in an entertaining, comfortable environment, which is why reading together, singing songs, and exploring the world is typically much more effective than the use of educational programs and flashcards. Parents should be mindful of one potential problem with excitement. Babies' brains process extreme excitement in the same way they process stress. Thus it's important for parents to help babies manage their emotions by providing distractions and calming signals when they note that their babies are growing excessively excited.
Sources:
Gerhardt, S. (2004). Why love matters: How affection shapes a baby's brain. New York, NY: Brunner-Routledge.
Harwood, R., Miller, S. A., Vasta, R. (2008). Child psychology: Development in a changing society. Hoboken, NJ: John Wiley & Sons.
Related articles:
Attachment: What is it?
Filial Therapy Helps Parents and Children Connect Through Play
Can You Guess the Number One Complication of Childbirth?
© Copyright 2012 GoodTherapy.org. All rights reserved.
The preceding article was solely written by the author named above. Any views and opinions expressed are not necessarily shared by GoodTherapy.org. Questions or concerns about the preceding article can be directed to the author or posted as a comment below.