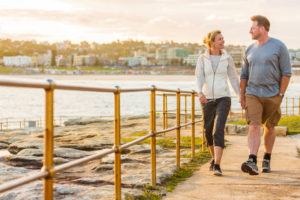 Did you know that happy couples report having the same amount of conflict as unhappy couples? According to Drs. John and Julie Gottman, the difference between the two groups is how they manage their conflicts within the relationship.
Resolving conflict with your partner can be challenging—especially when tempers seem to quickly flare and an argument suddenly appears out of nowhere. When anger is triggered, it may initially feel like a slight irritation or frustration, yet those feelings have the potential to become full-blown outrage. We all experience anger in different degrees of intensity that ultimately dictates how the conflict is going to go. It is predictable that if your conflict begins in a harsh way with blame and criticism, it will end up in a harsh way ending with a lack of resolution.
Couples who struggle with conflict typically have two ways of dealing with their anger: they either suppress or vent. One partner tends to either deny or subdue their anger, feeling exasperated but deciding to remain silent in an effort to preserve the harmony. The danger with this strategy is that, over time, resentments will build. The other partner may react quickly with angry, critical, and/or demeaning remarks. Expressing anger in this way only serves to reinforce old conflictual patterns that prevent relationship change. Both strategies in dealing with conflict this way are not effective. These are predictable patterns that lead to endless cycles of blaming, defensiveness, and stonewalling.
Although many people consider anger to be a negative emotion which should be avoided at all costs, it is a necessary emotion. When triggered by anger, your emotions are letting you know something is not quite right and needs to be corrected. Your anger can be a useful tool, helping you define yourself, your life, and your relationship more clearly.
Before addressing a conflict ask, yourself these questions: What is the real underlying issue here? What are we trying to accomplish?
Before addressing a conflict ask, yourself these questions: What is the real underlying issue here? What are we trying to accomplish?
Happily married couples …
… set a designated time to discuss the issue. They set some ground rules. They begin the discussion by taking turns as a speaker and listener. They take turns pinpointing problems using "I" statements: "When _____ happens, I feel _____. I would like _____." They listen by paraphrasing what was said by rephrasing the speaker's major point and feelings.
… focus on clear communication. They avoid using "you" statements that suggest blame. They avoid using terms such as "always" and "never." They describe the situation and how it has affected them, but not the behavior of the other person. They look at their partner from a positive perspective.
… take a break. When they are starting to feel overwhelmed by a conflictual discussion, they decide to take a 20-minute to 24-hour break from the discussion. If they get flooding with emotions, they know it will be nearly impossible to have a meaningful, effective conversation that clears up the issue. They know it is best to stop while they're ahead.
… remember they are friends first. Happily married couples generally see their partner in the best possible light, recognize they are human, and will make mistakes from time to time. They see the other as a friend who is in their corner, not their adversary.
Learning how to handle conflict and make your relationship work better is possible. When you can both understand the cycle you are participating in, then break destructive patterns, you may find more resolution to problems and experience less frequent escalating disagreements. Keeping yourself from being overwhelmed and taking a break when you need it will help you stay calm after your emotions are triggered by a fight. When you can act in a way to generate positivity and focus on your partner's positive qualities, you are taking a step in the right direction.
If you have been stuck in a negative pattern of conflict with your partner for a while, it might be the right time to seek professional help from an experienced marriage counselor. You, too, can change the way you manage conflict by learning and applying some new, more effective conflict resolution skills.
References:
Gottman, J.M., & Silver, N. (2015). The seven principles for making marriage work. New York, NY. Harmony Books.
Lerner, H. (2005). The dance of anger. New York, NY. HarperCollins Books.
© Copyright 2018 GoodTherapy.org. All rights reserved. Permission to publish granted by Ellen Schrier, MS, LPC, NCC, GoodTherapy.org Topic Expert
The preceding article was solely written by the author named above. Any views and opinions expressed are not necessarily shared by GoodTherapy.org. Questions or concerns about the preceding article can be directed to the author or posted as a comment below.