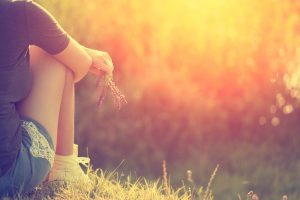 Editor's note: The subject matter in this article may be triggering for those who experience body image issues, those coping with an eating disorder, and those who are in recovery.
Recently I forced myself to dive into some untouched parts of my inconstant memory and stumbled upon a timeline where I saw myself struggling with body image. As a girl of 16-and-a-half years of age, surrounded by glitterati and supermodels and people who talked and behaved like them, I wanted to replicate their body figures and eating habits and put these into practice in my own life. This patchy, purposeless idea came to me after so many years, and I wondered why I hadn't thought about losing weight all this while—especially as I was poked and teased by my cousins and family, who occasionally told me I should lose some weight.
The thought of losing weight lit upon me, and that instant I told my mom I wanted to hit the gym. She was overjoyed by hearing her lazy child come to her with a brilliant idea. For weeks following, my mom and I worked out at the gym together—until she gave up. But she remained surprised I was still pursuing my desire to lose weight.
I slowly started changing my food habits, too, trying to avoid my usual late-night study or Netflix snacks. It was like my inner heart gave me the strength to sacrifice so much for this desire to become a fit, healthy person. It was hard, at first, to give up my erratic sleeping schedule and my unhealthy eating habits. But before I knew it, I was eating healthy, avoiding all kinds of junk foods, and going to the gym without even a tiny bit of laziness in me. I was so happy to see my new life as a person who was changing drastically.
I definitely did have days where I felt disappointed by not seeing the results I wanted. I would spend hours looking in the mirror and asking myself if I could really see any change. But I overcame those thoughts with some positive self-talk that got me back on track.
Over a span of three months, with some serious determination, the god above granted me the body I always longed for. It motivated me to work out even more and stay fit. People started seeing me differently at school. They called me sexy—something I never thought anyone would call me, something I thought was reserved for models and actresses. I became very popular in school, and soon enough boys started to notice me. My crush even told me I looked great and asked me out on a date.
That night when I came home, I thought about the whole weight-loss thing again and remembered no one noticed me when I was an overweight, nerdy kid. The whole perception of me had switched around in a jiffy. Although I was happy I got a lot of attention I wasn't used to, the "positive body image" part of me (which consumed only 10% of my total body image) had reservations. I could hear a whisper inside that this whole idea was just a path to an unnecessary façade, that it wouldn't end well because the guys who came into my life would only love me for my body.
This thought didn't last long. In the morning I was back to my normal routine of working out and impressing people along the way. I soon got myself into a relationship that involved a lot of arguments and feuds, leaving me feeling lonely and depressed because I loved the guy and thought he loved me, too. But it turned out he was looking for something purely physical and had begun dating me solely because he found me hot. And learning this from others he told left me broken and lonely.
For months following the breakup, I isolated myself from my friend circle and hated myself for falling for the wrong guy, turning to my tear-soaked pillows and my canvas for company. I felt as if I had completely given my love-filled heart to the one person who cared only about my body. No one had cared about me at all when I had been overweight, I thought. I did see myself continuing the vicious binge eating and purging cycle, even though I realized I was not only hurting myself physically by surrendering to my thoughts of poor body image, but also hurting the people around me.
The depression I went through led me to spend most of the time within the four walls of my bedroom. I did not go to the gym, but I did eat my way through my breakup phase. The eating patterns I fell into triggered the thought that I was eating and not exercising, something that equaled getting fat. Because I spent most of my time wandering with the movement of my thoughts, I started to think of ways I could eat and not get fat. Soon enough I began to turn to unhealthy foods for comfort and then throw up what I had eaten out of a a fear of getting fat again.
These episodes of binge eating and purging continued for about an year until I found out what I was doing was considered an eating disorder. My parents, who were deeply concerned and worried about my condition, urged me to take some counseling sessions. I was reluctant to go at first, but I didn't want to upset them. They had seen me through my loneliness post-breakup, after all. So I decided to go.
After a month, I still didn't see any positive results. I did see myself continuing the vicious binge eating and purging cycle, even though I realized I was not only hurting myself physically by surrendering to my thoughts of poor body image, but also hurting the people around me. Although a part of me wanted salvation from this so-called disorder, I couldn't help myself as I continued to eat so much ice cream and cake and then puke it all up.
I felt pathetic and miserable. The post-breakup phase continued, with harsh effects. This had been my first relationship, and I really thought I had loved the guy so much. The thought of giving up so much for one person, who turned out to be like a wind that ripped the chaff from the grains, was depressing. It was difficult for my parents to see me cry every day, and face my anger after the breakup, though they had always helped me try to make all the right choices along the way. I remembered my elation, fueled by raging hormones, as I got ready to go out with him. While we were dating, my grades slipped from As to Ds—I was too busy texting, or waiting for texts, to study. I remembered standing up for him to my parents, disobeying them, throwing hurtful words at them, doing everything I could to see this guy who, after all the chaos, left me broken to the core.
My family supported me, though, through this difficult time. I knew that although I broke out of my house to meet this guy, gave into my raging emotions to meet the people I thought were my best friends, it was my family who was waiting for me when I came back, who was there for me as I struggled through months of lowness. Months after the breakup, it was my mom who got me to work, read, and assist with some household work, urging me to do what I could to help take my mind off my pain. For the first time in four months, I was doing productive things and feeling good about them. That day, I remember I ate three whole, healthy meals, and I didn't throw anything up.
Weeks later, I began to ponder my disorder. The cycle of binging and purging did not stop entirely, even though I felt less depressed and more productive. I had severely restricted my diet, so I had cravings at times, and each time i made myself throw up, it seemed the cravings grew. The time I spend in the bathroom, puking, is painful, but it has almost become a part of my daily routine. It's like I'm fighting for my body, which is ironic, because each time I throw up, enhancing my perception of weight loss by spitting out calories, I am hurting my own body.
Despite understanding what I am doing is wrong and harmful, I can't stop it. I am in a constant battle with my fears. My body wants me to love myself, whatever shape I am in. But my mind keeps encouraging me to think about those perfect model bodies. Despite understanding what I am doing is wrong and harmful, I can't stop it. I am in a constant battle with my fears. My body wants me to love myself, whatever shape I am in. But my mind keeps encouraging me to think about those perfect model bodies.Science probably tells us the mind coordinates the body and they work hand-in-hand, but I feel in my case, the mind and body work quite differently. Sometimes, in fact, I feel like my mind is "evil," that it's thinking of ways to hurt my innocent body, that I am like a nerve carrying information from the mind and acting on it, even though it affects my body negatively. It feels as if I am suppressed by the powers of the mind and can't speak my own mind or protect my body from harm.
But I do not always feel this way. I do have good thoughts that involve helping people or doing something for someone. When it comes to the topic of eating, though, my body and mind share different opinions and are in a constant debate. I feel most relaxed when I'm asleep. It's peaceful, when both the mind and body are quiet and not battling with each other.
One interesting thing I have noticed through my struggle is, that though I may have poor body image, when it comes to self-esteem, I have a great deal. I have always wondered why. Body image and self-esteem go together, don't they? But when people tell me I am not good-looking, I smile and say, "To you I may not be good-looking, but to the many people around me, I am a star." That's how I always respond to negative comments.
But back at home, when I am alone and looking at myself in the mirror or debating at the dining table whether I should eat or not, I reconsider. Am I really a star in my own eyes, I wonder? I'm not going for pride or boastfulness, simply a little positive self-talk. But when the answer is no, the cycle of binge eating and purging begins again. And my journey continues.
© Copyright 2017 GoodTherapy.org. All rights reserved.
The preceding article was solely written by the author named above. Any views and opinions expressed are not necessarily shared by GoodTherapy.org. Questions or concerns about the preceding article can be directed to the author or posted as a comment below.