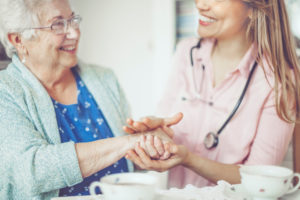 Many people with an addiction to drugs or alcohol do not seek treatment. A new program at Boston Medical Center's Grayken Center for Addiction is helping close this addiction treatment gap.
About 17% of people admitted to Boston Medical Center (BMC) have a substance abuse issue. The BMC staff developed the Addiction Consult Service (ACS) to reach more of these people. The service offers treatment to people who abuse substances when they are hospitalized for another condition.
Increasing Access to Addiction Treatment at BMC
The ACS staff tracked diagnoses and treatment recommendations of program participants. Researchers also assessed follow-up data on participant outcomes.
Over 26 weeks, the ACS performed 337 consultations with people admitted to BMC:
Opioids were the leading cause of addiction, accounting for 78% of consultations.
Alcohol addiction accounted for 37% of consultations.
Twenty-eight percent of people who did consultations were addicted to cocaine.
Three percentwere addicted to a cannabinoid such as marijuana or K2.
Less than 1% of people who did consultations were addicted to methamphetamine.
Seventy patients who received counseling pursued methadone treatment. When they were discharged, 76% of these people were still undergoing treatment, and 29% were still receiving methadone at 180 days.
Forty patients were prescribed buprenorphine, a pain medication that can also treat addiction to pain medication. Of these individuals, 49% received an outpatient clinic referral upon discharge, and 18% were still participating in treatment at 180 days.
Should Hospitals Implement Programs to Help People With Addiction?
The people who received medication and other treatment for addictions were not initially seeking addiction treatment. This suggests that most or all would not otherwise have received treatment.
The study emphasizes that no one treatment may be effective for everyone. Though this study focused primarily on medication treatment for addiction, other programs could also be effective. More research could identify further interventions and initiate programs in other medical settings.
References:
New care model closes significant gap in addiction treatment. (2017, November 8). ScienceDaily. Retrieved from https://www.sciencedaily.com/releases/2017/11/171108132046.htm
Trowbridge, P., Weinstein, Z. M., Kerensky, T., Roy, P., Regan, D., Samet, J. H., & Walley, A. Y. (2017). Addiction consultation services–Linking hospitalized patients to outpatient addiction treatment. Journal of Substance Abuse Treatment, 79, 1-5. doi:10.1016/j.jsat.2017.05.007

The preceding article was solely written by the author named above. Any views and opinions expressed are not necessarily shared by GoodTherapy.org. Questions or concerns about the preceding article can be directed to the author or posted as a comment below.