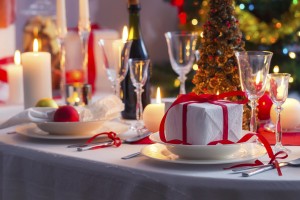 For many people, the winter holiday season, with all of its obligations and expectations, is stressful and exhausting. There are just so many messages about how things are supposed to be, and they're coming at you so fast. Sometimes you don't even need to look far to see someone telling you that you're doing something wrong; that voice is already in your head nonconsensually critiquing your every move.
And sometimes this isn't the case; not everybody experiences the pull of perfection this time of year. But most of us do find ourselves spending time, and sometimes lots of time, with our families.
Going home for the holidays is not always the easiest thing. Being with our parents and siblings can bring up old hurts and past patterns. Suddenly we feel like the sulky 17-year-old or the disappointed 11-year-old and we don't even notice that it's happening. Our adult identities can become lost or we might feel like we're in overdrive needing to prove ourselves.
This feeling of losing identity can be really disturbing. It can feel like you don't know who you are or that you're trapped and can't leave. Planning ahead can help alleviate some of the stress and let you enjoy spending time with your family.
Figure Out the Hardest Parts and Make a Plan
What are the things you find most difficult when you go home? Is it sharing the kitchen with your mother? Or listening to you father talk to you like you're still a kid? Is it sitting down to a meal or spending unstructured time together in the evening?
Understanding which part is the most difficult for you can help you be strategic in planning a trip that meets your needs as well as those of your family. If cooking together feels most stressful, think about bringing food already prepared. Does spending the night drive you crazy? Then see if it's possible to stay in a hotel or at a friend's place.
Get in Touch with Your Adult Self
When we're with the people we grew up with it can be hard to feel like our adult selves. One way to keep in touch with this part of ourselves is to think about a person in your life who treats you like an adult in a way that feels really good. This might be a boss, a co-worker, or a teacher. Whoever it is, imagine how good you feel about yourself during those interactions.
This gets to be a touchstone for you—something to remember in those moments where you start to feel like your younger self. In those hard moments, conjure up your touchstone, your person who makes you feel most like a successful and happy adult, and pretend instead that you're interacting with them. See if you can shift the way that you're seeing yourself regardless of how those around you are seeing you.
Another way to stay in touch with your adult self is to literally carry a piece of you in your pocket. What pocket-sized item can help you remember all of the things you are proud of and have accomplished? It might be a shell from a really relaxing vacation or a matchbook from the bar where you always hang out with your friends. Keep it in your pocket, and if you start to lose track of that sense of self, you can just reach in and touch it for a quick reminder.
Enlist an Ally
An ally can help you in several different ways. One way to enlist an ally is to bring a friend home with you—someone you would enjoy spending time with. Having a friend from your adult life can help you remember who you are in moments that feel stressful. It can also have the bonus of putting other family members on their best behavior.
If an ally can't come with you, you can also enlist an ally who will be a long distance support. You can even make an agreement with them, "When I text you, 'I'm going to poke my eyes out,' you write back, 'You're doing a great job! Only two more days!'" Or make a plan to check in on the phone each day.
Limit the Use of Drugs and Alcohol
Each family has their own rules about what's acceptable use of drugs and alcohol and what's not. Sometimes it's hard to be the one who's saying "No" when everyone else is saying "Yes." This strategy isn't about drugs and alcohol being bad and therefore you shouldn't do them; it's more about being mindful about how these substances historically impact your body and making decisions accordingly. You get to decide what makes that most sense for you.
Many people feel guilty about the stress they feel when they're with their families. This stress is normal; it's part of growing up and being an adult. And part of being an adult is being able to take care of yourself. Taking care of ourselves can allow us to concentrate on other things, like connecting and feeling close with our families. Consider how you could use these strategies to take care of yourself this holiday season.

The preceding article was solely written by the author named above. Any views and opinions expressed are not necessarily shared by GoodTherapy.org. Questions or concerns about the preceding article can be directed to the author or posted as a comment below.