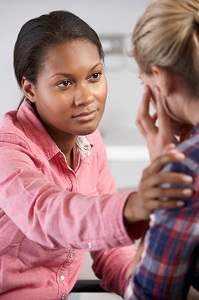 Imagine that, as a therapist, someone you have been working with for a month comes to her next session and reports to you that she has just tested herself for HIV at home and she is HIV positive. Do you have the information you need to handle this? Did you know that it was even possible for people to test themselves at home for HIV?
Now, imagine another scenario: you have been seeing someone professionally who, you suspect, may have been exposed to HIV given his sexual and drug history, but he has clearly stated he will not go to a clinic or physician to get tested because no one knows that part of his life. Are you aware that there is now the option of self-administered testing that can be done anywhere, including your office? Do you know the information this test can give in terms of accuracy?
For much of the first three decades of the HIV/AIDS pandemic, HIV testing was restricted to certain organizations and professionals. Initially, this was because only those who were considered at risk for HIV were encouraged to get tested. In 2006, realizing that this approach was not effectively stopping the pandemic (which has remained at an estimated 45-60,000 new infections annually in the United States since 2000), and that this approach perpetuated the stigma that continues to plague HIV prevention efforts, the Centers for Disease Control announced recommendations that all people ages 15-65 should be tested for HIV. This recommendation was affirmed by the US Preventive Service Task Force in 2013, essentially putting a bit more weight behind the 2006 CDC recommendations.
Over the past few years, HIV testing has been expanded to include places such as pharmacies and DMVs (notably in Washington, DC), as well as mobile testing vans on street corners, festivals, and late-night bar areas. Policies in the US have been enacted requiring that all pregnant women be tested for HIV and, more recently in places like the Bronx and Washington, DC, efforts have been made to test all people who have visits to hospital emergency rooms. Despite all these efforts, the rate of HIV testing has not expanded and the rate of HIV transmission remains at the same levels.
In July 2012, the Food and Drug Administration approved the sale of over-the-counter, self-administered rapid HIV tests (OTCRT). This approval makes HIV testing more portable, accessible, and confidential than ever. However, through a personal survey of HIV/AIDS organization websites and in conversations with people at meetings and events, it is clear that the knowledge of this remains relatively obscure.
Among the reasons given for this silence from organizations is the concern that people need counseling, that people will not use the test correctly, that a person without adequate supports who finds out he or she is HIV positive will hurt himself or herself, and that this test is cost-prohibitive. While there may be some merit to these concerns, research and anecdotal evidence does not support them. In some places in the US, people who are not high-risk (as assessed by pretest questionnaires) are given options that cost 2-3 times more than OTCRT; studies have shown that some of the highest risk/never tested individuals want a self-testing option; and further recent studies have indicated that the counseling that accompanies HIV testing is not effective in altering risk behavior, which is its primary objective.
Even in the face of these concerns, remaining silent on all options—especially in the cases where alternatives are more expensive and/or unnecessarily intrusive—is disconcerting. As one FDA official related to me in personal communications, the fact that HIV testing is a significant source of funding is one of the reasons for this silence; the FDA is protecting "turf." I have found that myopia is as much a function of this as is protecting turf, but the result is the same: an entrenched HIV-testing system that seeks to overcome stigma and get everyone tested by targeting risk groups (perpetuating stigma) and restricting testing to high-risk individuals while ignoring mention of the full options.
Despite the lack of leadership from HIV/AIDS organizations in raising awareness in the general population about all the ways that people can find out their HIV status, people are finding out about self-testing options via social networking and targeted advertising (such as on MTV and Comedy Central). For this reason, it is increasingly important that the counseling and helping professionals, regardless of their prior level of work with HIV, recognize that we may now find ourselves as the first point of contact with regard to HIV testing. As with so many issues that come up in therapeutic relationships, we have an ethical responsibility to have some basic information. Among the most important information includes:
Understanding that OTCRT are screening tests, not confirmatory. The rate of false positives is about 3%; false-negatives are less than 0.1%. Confirmatory tests are essential. Unfortunately, at this point, most of the traditional HIV testing centers do not recognize the existence of self-testing, so there is not a direct access to a confirmatory test at these sites. Hopefully, through advocacy efforts, this will change (CDC has already recommended such changes). Until then, the best recommendation for going directly for a confirmatory test is with a medical doctor or hospital.
Having a list of basic referrals for HIV-specific supports such as peer groups and physicians.
Knowing the basics about HIV—how it is spread, precautions, the importance of treatment in decreasing risk of transmission, prognosis of living with HIV, etc.
In addition, the portability of OTCRT brings an opportunity for us to better serve our clients. If people getting tested should have counseling, then OTCRT allows all counselors and therapists to be a part of the testing process. HIV has long been a part of a bio-psycho-social syndemic, most frequently co-occurring with depression, substance abuse, and/or poverty. It is estimated, for example, that people who use drugs on a regular basis are 30-50% more likely to contract HIV than those who do not use drugs but are just as sexually active. Furthermore, we already know that people with mental illnesses are more likely to use drugs (for more on this, see the work of Dr. P.N. Halkitis, including Methamphetamine addiction: Biological foundations, psychological factors, and social consequences, 2009). In addition, given the high rates of impact of HIV on marginalized populations (gay men, people of color, women, and drug users) there is a heavy cultural stigma that impedes them from accessing testing at public facilities.
As clinicians, we are already working with many people who may have several of these issues in our work settings and practices. We can now help to facilitate one potential aspect of our clients' lives: HIV. As with all syndemics, it is important to work with clients to identify the issues that are the most likely to be overcome and/or managed, and remaining HIV-negative (or healthy with HIV) is often one such achievable goal.
Keeping the HIV-testing experience within the context of the therapeutic relationship can have the added benefit in the therapy process by deepening the creation of a safe, nonjudgmental environment in which other issues can be further explored. It can also be an empowering experience for clients to be able to do their own self-assessment of their risk and their own status, without the intrusion of the traditional testing centers—especially if an unknown person is asking intrusive questions and discerning risk based on an outdated mode of thinking.
The implications for the counseling professions are many and varied, both in terms of responsibility and potential. Clinicians should be considering the scenario of a client coming to a session and reporting that he or she has just tested positive at home. Does the clinician know that this is even possible, let alone what this really means? Furthermore, if you are a clinician working with teens and young adults who are sexually active and engaging in alcohol consumption, or with gay men who are using crystal meth, or women who are in abusive relationships, you may now be the safest person for that person who has never had an HIV-test. You may be the ideal person to walk that journey with them.
Are you aware of the ways you can do this, including sitting in your own office with the client as he or she uses a self-test? Do you have the resources you need? Hopefully, the information given here has opened you up to the possibilities, as well as the ethical responsibilities we all have in this new era of testing that includes self-testing and what we need to do to be positive allies on behalf of our clients and in the work to end the HIV/AIDS pandemic.
© Copyright 2013 GoodTherapy.org. All rights reserved. Permission to publish granted by Bradley Ogilvie, MS, LPC, LMFT, HIV / AIDS Topic Expert Contributor
The preceding article was solely written by the author named above. Any views and opinions expressed are not necessarily shared by GoodTherapy.org. Questions or concerns about the preceding article can be directed to the author or posted as a comment below.