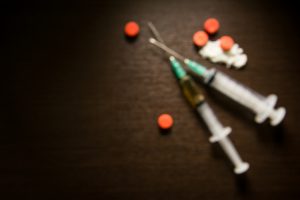 Heroin use increased almost 500% between 2001 and 2013, with white males succumbing to heroin addiction at a higher rate than other groups. Researchers from Columbia University surveyed more than 79,000 people about their heroin use. They found 1.6% of adults used heroin in 2012-2013, compared to 0.33% in 2001-2002.
The trend is part of an opioid abuse epidemic that caused opioid-related deaths to surge to 47,055 in 2014. Some experts blame the ready availability of opioid prescriptions, arguing they can serve as gateway drugs leading to heroin use. A 2014 study published in JAMA Psychiatry found 75% of people seeking treatment for opioid addiction were introduced to opioids through prescription drugs.
The Centers for Disease Control and Prevention suggests doctors use non-opioid therapies whenever possible. It also advocates using lower doses and prescription drug monitoring systems when doctors determine they must prescribe opioids.
Astronauts often struggle to sleep in space. When the cost of a mistake can be catastrophic, sleep becomes more valuable. To combat sleeplessness without drugs, the National Aeronautics and Space Administration's (NASA) Behavioral Health and Performance team offers astronauts a cognitive behavioral therapy (CBT) program that educates astronauts about healthy sleep habits and strategies.
North Carolina has officially removed the restrictions set by House Bill 2, which required transgender individuals to only use public restrooms that correspond with the sex on their birth certificate. After backlash from many businesses and associations—including the NCAA, which threatened to remove basketball tournaments from the state—legislative leaders in the state introduced a compromise plan. The new bill prohibits state agencies from controlling access to public restrooms, but critics such as the American Civil Liberties Union say the bill does not go far enough to remove discrimination and protect the rights of LGBTQ+ individuals.
babies
. Research on its efficacy has been inconclusive. A systematic review of data by the Cochrane Collaboration found no benefit to using formula supplemented with DHA. However, it also found no harm associated with the supplement.
In a new book, Explaining Suicide: Patterns, Motivations and What Notes Reveal, Wright State University psychology professor Cheryl Meyer explores suicide and the notes people may leave behind. Some notes were directed to a specific person. Others offered general explanations. Seventy percent of the notes left behind said suicide was a way to escape physical or psychological pain.
According to a study published in the journal Psychological Science, sex could be a key ingredient in the recipe for a happy marriage. Researchers found sex produced a "blissful afterglow" that lasted two days with the potential to improve long-term relationship satisfaction.
New research published in the journal Current Biology suggests gentle touch can have lasting benefits for babies, particularly those born prematurely. Research published in 2016, which looked at the effects of touch-intensive kangaroo care, reached similar conclusions.
© Copyright 2017 GoodTherapy.org. All rights reserved.
The preceding article was solely written by the author named above. Any views and opinions expressed are not necessarily shared by GoodTherapy.org. Questions or concerns about the preceding article can be directed to the author or posted as a comment below.