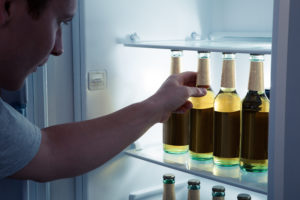 Among heavy drinkers, intoxication is correlated with increased violence against intimate partners, according to a study published in the journal Alcoholism: Clinical and Experimental Research.
Previous research has also linked intoxication to other forms of violence. Research published in 2001 suggests half of sexual assaults involve drinking by the victim or perpetrator. Other estimates put the figure as high as 90%.
Potential Link Between Drinking, Domestic Violence
The study followed 148 men and 101 women from Atlanta and Indianapolis. All participants were heavy drinkers, in heterosexual relationships, and had recently committed an act of physical or psychological violence against their partner. "Heavy" drinking was defined as more than five drinks for men or four drinks for women per day at least twice a month.
Each participant completed a questionnaire assessing their tendency toward impulsivity and problematic drinking. Next, they either consumed an alcoholic or nonalcoholic beverage and completed a task designed to measure aggression. During this task, participants were suddenly "provoked" by their intimate partner.
Alcohol, Impulsivity, and Violence
People who behave aggressively toward an intimate partner typically do so for a reason—and they often view the aggression as something their partner provoked. The study suggests impulsivity causes people to more strongly focus on emotional cues. So, a fleeting glance from a partner might carry more emotional weight when someone feels impulsive. Because intoxication increases impulsivity, it increases drinkers' tendency to notice negative emotional cues, and in some cases, to react violently.
The study's authors say their research points to strategies that could reduce intimate partner violence among heavy drinkers. Strategies that inhibit aggression and impulsivity, such as peaceful imagery, might be helpful.
References:
Abbey, A., PhD, Zawacki, T., MA, Buck, P. O., MA, Clinton, A. M., MA, & McAuslan, P., PhD. (2001). Alcohol and sexual assault. Retrieved from https://pubs.niaaa.nih.gov/publications/arh25-1/43-51.htm
Drugs & sexual assault. (n.d.). Retrieved from http://web.uri.edu/womenscenter/drugs-sexual-assault/
Intoxication increases risk for heavy drinkers to commit violence against intimate partner. (2017, August 14). Retrieved from https://www.eurekalert.org/pub_releases/2017-08/gsu-iir081417.php
Subramani, O. S., Parrott, D. J., & Eckhardt, C. I. (2017). Problematic drinking mediates the association between urgency and intimate partner aggression during acute intoxication. Alcoholism: Clinical and Experimental Research. doi:10.1111/acer.13437
© Copyright 2017 GoodTherapy.org. All rights reserved.
The preceding article was solely written by the author named above. Any views and opinions expressed are not necessarily shared by GoodTherapy.org. Questions or concerns about the preceding article can be directed to the author or posted as a comment below.