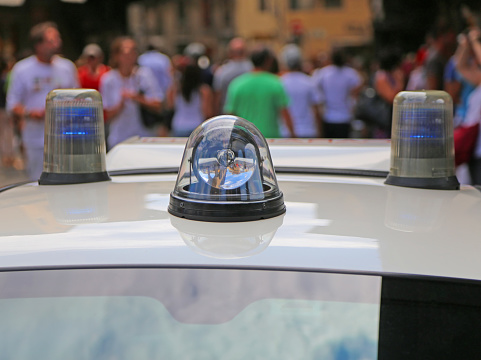 Nearly half of all people killed by police have a disability, according to a new report by the Ruderman Family Foundation. These disabilities often include mental health conditions, which the report suggests media reports sometimes use to blame the victim. A range of disabilities can inhibit a person's ability to understand and comply with police instructions, increasing vulnerability to violence.
The paper tells the story of John Williams, a First Nation woodcarver who was shot while walking down the street holding a small knife. Williams had severe hearing loss, and was therefore unable to comply with verbal police instructions to drop the weapon.
The report comes at a time of increased public attention to police shootings, particularly of unarmed African-American men. Although black men account for 40% of police shooting victims—even though they comprise only 6% of the population—the report emphasizes the often overlooked role of disability and mental health in police shootings.
The report highlights the role journalists play in shaping public opinion about police shootings. It concludes with a number of recommended best practices for journalists reporting on such shootings. Those include being mindful of mental health stigma, avoiding blaming the victim, and using sensitive language to discuss disabilities.
Preventive Medicine,
men with
stereotypical
beliefs about
manhood and masculinity
might be more likely to put off dealing with any symptoms they may have, particularly when they fear those symptoms make them look "weak."
The U.S. Food and Drug Administration (FDA) announced plans to require immediate-release opioids to carry a strongly worded box warning about the high risks of abuse and overdose death. In 2013, the FDA tightened labeling and warning requirements on extended-release opioids because of their potency, but this is the first time the same restrictions have been applied to immediate-release opioids. The news comes as a number of government agencies are working to reduce opioid abuse, addiction, and overdose.
A new study published in Depression and Anxiety posits a direct connection between social media use and depression among young adults ages 19-32. The study followed 1,787 participants and found a direct correlation between time spent on social media and increased risk of depression. On average, participants used social media for 61 minutes each day, visiting various social media sites 30 times per week.
Mindfulness-based stress reduction—an approach that incorporates elements of yoga, body awareness, and meditation—could help the 65 million Americans who experience chronic low back pain, according to a study published in JAMA. Researchers randomly assigned 342 participants ages 20-70 to either cognitive behavioral therapy or mindfulness-based stress reduction. After six months, those cultivating mindfulness reported less difficulty with tasks such as getting out of a chair and climbing stairs.
People diagnosed with intermittent explosive disorder, a condition that causes sudden bouts of intense anger, are more than twice as likely to carry Toxoplasma gondii. The parasite is common in cat litter boxes, suggesting cat ownership—and particularly exposure to litter boxes—could affect mental health. People with the infection from the parasite score higher on measures of anger and aggression because the areas of the brain that control emotion regulation may be directly affected.
© Copyright 2016 GoodTherapy.org. All rights reserved.
The preceding article was solely written by the author named above. Any views and opinions expressed are not necessarily shared by GoodTherapy.org. Questions or concerns about the preceding article can be directed to the author or posted as a comment below.