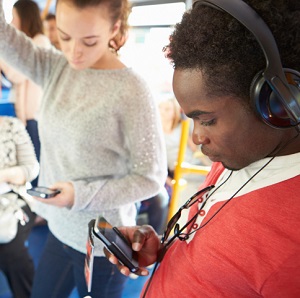 FOMO. If you've ever checked your Facebook on a Friday night, you've probably felt it, even if you've never heard of it. It's an acronym that makes for a handy textspeak shortcut for Fear Of Missing Out.
Think back to a moment when you missed out on something. That time you were sick and missed the big music festival. Or the time you had to meet an assignment deadline and couldn't meet your friends at that party. Or (gulp) that time you just weren't invited to the event where everyone else would be.
The first word in FOMO is fear, but its meaning has grown to include a constellation of painful feelings that come with the fantasy that everyone else is doing something "better" than what you're doing right now. It can be any combination of fear, longing, sadness, insecurity, envy, and anger. Intense FOMO can be miserable.
It's insidious: people who are so desperate to be a part of everything fun happening within a 20-mile radius are doing anything to relieve their FOMO. They're going out despite being exhausted, sleeping with their cell phones on their pillows next to their ears, and ignoring their friends to check their Vines and Instagrams.
But doing all of the exhausting acrobatics that it takes to avoid FOMO is unsustainable. You can burn out from social events just as you can from anything else. And keeping yourself busy to avoid FOMO might look impressive on Facebook, but it can easily interfere with your relationships. First you start looking over the shoulder of your friend in front of you, trying to find someone hipper or better-connected. It won't be long until you find yourself texting other people during the entirety of someone's birthday dinner.
Andrew Przybylski, a psychologist at the University of Essex in England, performed a study on FOMO and found that high levels of FOMO correlate to lower levels of life satisfaction, worse moods, and a greater sense that one's needs aren't being met (Pappas, 2013).
FOMO is not only uncomfortable—Przybylski's findings suggest that it can be dangerous: people who engage in distracted driving (e.g., texting and checking social media while driving) report high levels of FOMO (Przybylski, 2014). So for your health and everyone's safety, here are some tips on how to combat the power of FOMO in your life:
Recognize What It Is
If you suspect that FOMO is a central part of your world, pay attention to what it feels like for you. If you're not sure whether you are prone to FOMO or have experienced it, you can take this quiz based on Przybylski's study.
Learn the signs of your own subjective experience of FOMO so that you can begin to recognize it as it's happening. It might be a heavy pit in your stomach, a burning in your face, or a thick knot in your throat. Once you're familiar with it, start identifying it for yourself when it's happening. When it comes to feelings, there is something powerful about the simple "name it to tame it" approach. Giving your feeling a label calms some of the overwhelm that comes with it.
It's also important to become more aware of the thoughts connected to your FOMO. Many people find that their thoughts are self-defeating ("I'm just a loser") and catastrophic ("no one cares about me at all"). I don't know anyone who could hear messages like that and be unaffected, but for many people this thought pattern has been going on for so long that it goes unnoticed. Notice it! It's mean and critical, and it's the last thing you need when you're already feeling lonely.
Challenge Yourself
Once you are aware of the feelings and thoughts that you're experiencing, try to challenge yourself. Challenge the critical thoughts by gently introducing new thoughts ("staying home on a Friday night doesn't make someone a loser"; "I feel lonely today, but I know I have friends who love me"). And challenge your ability to be present in the moment.
If you're at dinner with a few loved ones, stretch your ability to resist checking social media for what other people might be doing. Breathe through your discomfort and try instead to pay closer attention to what you're doing and to any company you're with.
Build Relationships That Matter
Przybylski's research found that people who felt less autonomous, less competent, and less connected to other people also experienced the most FOMO. This suggests an important way to get to the root of your FOMO: the more secure you feel, the more satisfied you feel; and the more connected you feel to others, the less you will be haunted by the fear of missing out.
So spend more of your energy building that foundation. Focus on growing fulfilling, satisfying relationships with other people. And when you're alone and lonely, take some time and grab a journal. That's the perfect time to grow your relationship with yourself.
References:
Pappas, Stephanie. (2013). No More FOMO: Fear of Missing Out Linked to Dissatisfaction. LiveScience. http://www.livescience.com/31985-fear-missing-out-dissatisfaction.html
Przybylski, A. K., Murayama, K., DeHaan, C. R., & Gladwell, V. (2013). Motivational, emotional, and behavioral correlates of fear of missing out. Computers in Human Behavior, 29, 1841-1848.
Przybylski, A. K. (2014). About FOMO. http://www.andrewprzybylski.me/FoMO/

The preceding article was solely written by the author named above. Any views and opinions expressed are not necessarily shared by GoodTherapy.org. Questions or concerns about the preceding article can be directed to the author or posted as a comment below.