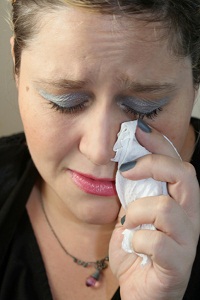 In the wake of the Sandy Hook shootings, I have been reading and hearing stories about how some therapists, healers, and spiritual leaders have been interfering with people's grief. If the professionals, the ones who are supposed to help us with our grief, are afraid of the grief and interfering with it, imagine what laypeople are doing. If people are interfering, then how will we grieve?
One of the reasons depth psychotherapy and healing to the root are so important—in fact, crucial—for an individual, and for society as well, is that where we are unable and unwilling to feel our own feelings safely, we end up misusing and abusing those feelings. We act out on them, hurting others and ourselves as well. In our efforts to avoid our grief—both conscious and unconscious efforts—we act out in ways that are harmful to others and to us. This is a real root of abuse of power in our world.
When 9/11 occurred, as a country we did an end-run around our grief. We called others evil—the "axis of evil"—and we started a war in another country and fought amongst ourselves. We did all the same kinds of things to avoid grieving that a dysfunctional family does when someone dies and the family members haven't done their own inner healing work. And in our dysfunctional avoidance of our grief, we created more grief—for example, soldiers in Iraq who lost their lives and whose families had to grieve; soldiers who came home with physical and emotional wounds that they and their families had to grieve; and female soldiers who had to grieve the lack of safety and the harm of being raped by fellow soldiers. Laws that were instituted under the guise of patriotism and protection in fact damaged freedom individually and communally. And there's more …
Very few of us knew that in addition to the here-and-now grief that needed to be felt and gone through, we needed to go through all the grief in our past that was unconsciously triggered by the current-day grief.
So, once again I ask: If we are unable or unwilling to feel our own grief about the Sandy Hook tragedy or any loss, then how will we grieve? And if, from our fear of feeling our own grief and having it evoked in us, we interfere with the grief of others, then how will those others grieve? And if we fail to do our own inner healing so that we allow ourselves and others to grieve safely and fully, how do we and how does our society ever emerge from the ongoing, entrenched cycle of a grief-causing event responded to by misuse of the grief, creating another grief-causing event by the ungrieved grief still buried within?
Grief Calling Us Again and Again …
Oceans of grief flowing
In waves seemingly unending.
Hearts contracted, unable to let the grief flow through.
The grief comes anyway …
Breaking the hearts wide open.
Grief …
Living within …
Wanting to come.
Needing to be felt.
Grief …
Alive inside …
Waiting for safe expression.
Needing to be expressed.
Grief …
Calling out to be heard.
Calling out to be felt.
Calling out to be seen.
Needing to be known.
Grief …
Pushed away.
Pushed down.
Buried within.
Crying out to be allowed to flow.
Screaming out to be allowed to come.
Grief …
Feared.
Made bad.
Normalized and circumvented
As a way to reject it.
Grief …
Refusing to be ignored and rejected.
Grief alive within …
Haunting us.
From yesterday, last week, a month ago …
Years ago.
Lifetimes ago.
Warning us to welcome it …
Warning us to allow it …
Grief still alive within …
Eventually causing an eruption
Inside or out.
Eventually causing an explosion
As it wails …
I just needed you to see me.
I just needed you to hear me.
I just needed you to feel me.
I just needed you to welcome me.
So together we could truly move on.

The preceding article was solely written by the author named above. Any views and opinions expressed are not necessarily shared by GoodTherapy.org. Questions or concerns about the preceding article can be directed to the author or posted as a comment below.